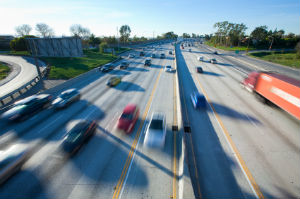 Interstate 95 is known by Floridians for terrible drivers, and now it's also known as the second deadliest highway in the U.S., according to an Auto Insurance Center study.
Through an analysis of National Highway Traffic Safety Administration (NHTSA) Fatality Analysis Reporting System data, over 200 deaths occur on I-95 every year, making it the second deadliest highway only to I-10, another Florida highway with 278 deaths per year.
Despite the two deadliest highways running through the state, Florida does not rank among the most dangerous states for motorists. Florida averages only 12.5 accident deaths per 100,000 people, and ranks 20th most dangerous.
Seat belt use is a major contributor to Florida roadway deaths. Half of those killed in auto accidents in the state during 2014 were not wearing their seat belts – data is not yet available for 2015.
The summer months are more dangerous for drivers, with a higher number of traffic fatalities compared to other seasons. This is attributed to increased drunk driving following summer parties and events. Weekend driving is more deadly also because of increased numbers of drunk drivers. Saturday is the most dangerous day, followed by Friday and Sunday.
The July 4th holiday is the most dangerous day for motorists throughout the country, with an average of 118 traffic deaths occurring on 4th of July every year. New Year's Day and Labor Day rank second and third.
From 5 p.m. to 6 p.m. is the most dangerous time of day for motorists, with heavy traffic levels during the evening rush hour.
If you have lost a loved one in a deadly highway accident, your family may be entitled to compensation for medical bills, funeral expenses, and pain and suffering. The car crash attorneys of Gordon & Partners will fight to maximize your compensation and achieve justice for your family.
Call 1 (855) 722-2552 or complete our Free Case Evaluation form today.