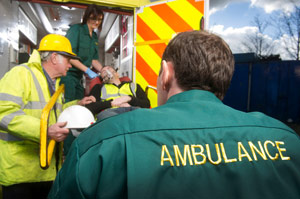 A Boynton Beach man was struck and killed by an off-duty Jupiter police officer while attempting to walk across Interstate 95 near the Donald Ross Road exit, according to the Florida Highway Patrol (FHP).
Police reported that the officer was driving home on Southbound I-95 after working a shift around 5 a.m. on Sunday, July 31, when the accident happened.
According to an FHP statement, the man was attempting to cross all five lanes of the highway from west to east when he was struck by the officer's Dodge Charger. The statement noted that it appeared as though he had just stepped out of a vehicle that was parked on the shoulder of the highway. It was not reported if the vehicle was broken down or why it was parked on the side of the road.
The man was pronounced dead at the scene of the accident. The officer was not injured, but was transported to Jupiter Medical Center as a precaution.
All southbound lanes of I-95 were shut down for about three hours Sunday morning while the accident was investigated. FHP is continuing a traffic homicide investigation into the accident.
According to the FHP statement, the officer has been with the Jupiter Police Department for more than six years.
Having represented accident victims for more than 25 years, our Palm Beach Gardens car accident lawyers know that pedestrian accidents can often be fatal. If you have been injured or lost a loved one because of a negligent driver, you may be entitled to compensation.
Contact Gordon & Partners today to schedule a free, no obligation consultation to learn more about your legal options. We are dedicated to helping you seek justice and fair compensation.
Call 1 (855) 722-2552 or complete a Free Case Evaluation form.