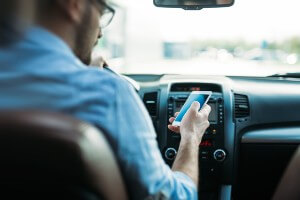 Inattentive drivers continue to cause car crashes and serious injuries to others sharing the roadways. Distracted driving is responsible for almost 50,000 crashes a year in the state of Florida.
To help reduce the risk of distracted driving accidents – particularly those caused by texting while behind the wheel – The Florida Department of Highway Safety and Motor Vehicles has partnered with the Florida Department of Transportation in enforcing existing laws against distracted driving as well as the implementation of the Wireless Communications While Driving Law.
Could these updated laws also help strengthen the claims of victims pursuing compensation against inattentive drivers for the injuries and damages they suffered?
Gordon & Partners discusses these distracted driving laws, including how they may impact your claim for compensation. Reach out to our firm to set up an initial consultation at no cost to you.
New Florida Distracted Driving Laws
The new laws supported by the Put It Down: Focus on Driving campaign are intended to improve roadway safety and prevent crashes, injuries and deaths related to distracted driving.
These laws change the way drivers may use their wireless communication devices while operating a motor vehicle. The first law (Section 316.305 of the Florida Statutes) took effect on July 1 of 2019. Drivers can be pulled over and cited for texting and driving.
The second phase of the law (Section 316.306) took effect on October 1 of 2019. In active school and work zones, a driver could be pulled over and given a warning for using a handheld device. However, since January 1 of 2020, drivers can now be pulled over and receive a citation instead of a warning for not using a hands-free device in these zones.
Wireless communication devices are not just limited to cellphones. Other examples include:
Two-way messaging devices
Electronic games
Penalties and Fines for Inattentive Drivers
If caught texting and driving, the penalties are as follows:
First offense – This is considered a non-moving traffic violation subject to a $30 fine in addition to court costs and other fees. No points are added to a driver's record.
Second offense – If a driver commits another offense within five years of the first, it is considered a moving traffic violation. He or she will be subjected to a $60 fine in addition to court costs and other fees. Three points will be added to his or her driving record.
It is important to note that using a handheld device in a school zone is automatically considered a moving traffic violation – even as a first-time offender. The fine is $60 in addition to court costs and other fees. Three points will also be added to a driver's record.
Are There Exceptions That Exist?
The short answer is yes. Florida drivers are allowed to send and receive texts while their vehicle is not in motion. For instance, it is not illegal to use a handheld device while at a red light or stopped in traffic. The restricted use of a handheld device in work zones can only be enforced when workers are present.
Instances when Florida's distracted driving laws may not apply include:
Anyone operating an emergency vehicle while performing official duties (i.e. police officers, firefighters or paramedics)
Drivers using a handheld device to report an emergency, criminal and/or suspicious activity to local law enforcement
Drivers receiving messages related to the operation or navigation of their vehicle. This includes safety related information (i.e. emergency, traffic or weather alerts)
Drivers using GPS and other navigational systems (i.e. rideshare or delivery drivers)
Drivers texting using hands-free technology to text or respond to messages
Drivers operating an autonomous vehicle in autonomous mode
Could These Laws Help Your Claim?
These new laws may help reduce the risk of distracted driving accidents, but if you are hit by an inattentive driver, will these laws help your claim? It depends.
Florida is a no-fault state when it comes to car crashes. This means you will need to go through your own insurer for reimbursement for your injuries and losses. The only way to step outside of the no-fault system is if you meet the serious injury threshold. In doing so, negligence will need to be proven.
Regardless of whether the driver is a first time or second-time offender, being ticketed may help show a violation of his or her duty of care to you and others on the road.
Calling 9-1-1 and reporting the accident – even if you suspect the other driver was distracted – is important. The responding officer will put together an official report of his or her observations, which may provide supportive evidence to help strengthen your claim.
For instance, perhaps the driver admitted to being distracted or the officer discovered texts or messages leading up to the accident on the driver's cellphone. In these cases, legal representation could be beneficial. A lawyer can help subpoena the other driver's cellphone records to prove driver distraction.
No Upfront Fees
Ph: 1 (855) 722-2552
If the other driver is cited for inattentive driving and you are seriously injured, it may help strengthen a legal claim if you are attempting to recover compensation for your medical bills, loss of income and other related-damages.
Representing Accident Victims Since 1993
The use of a handheld device is just one possible cause of distracted driving that can lead to a serious accident and injuries. At Gordon & Partners, we have been advocating for Florida residents for decades and have a proven track record, recovering millions of dollars in compensation on behalf of our clients.
Our experienced car accident lawyers in West Palm Beach are ready to fight for maximum compensation and hold the at-fault party accountable for his or her actions. An initial consultation is 100 percent free of charge. We also charge no upfront fees to retain our services and only get paid if you get paid.