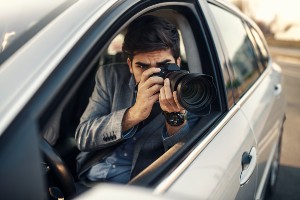 Insurance companies use many different tactics to delay, devalue or deny claims. An insurer may have offered you a lowball settlement offer that does not accurately reflect the damages you have suffered.
Did you know that sometimes insurance companies may hire private investigators to conduct surveillance in car accident cases? They are looking to uncover any information to use against you. An insurance company is looking to fulfill its best interests – which is to save as much money as possible.
Our auto accident attorneys in West Palm Beach discuss whether car insurance companies can legally spy on you and if there are limits to what private investigators can do when hired. To learn more about your rights, schedule a free consultation. There is no risk in reaching out and no obligation involved.
Can Car Insurance Companies Spy on You?
Car insurance companies do not always engage in surveillance. Hiring a private investigator can be quite expensive, but it is not illegal. Private investigators are within their rights to go anywhere in public and take photos of you going to/from work, look at your social media posts and review public records.
A private investigator can uncover a great deal of information about you and use this information to help the insurance company discredit your injuries and diminish your claim. Insurance companies generally may hire private investigators in complicated cases or in cases with the potential to obtain a large sum of money. For instance, if you sustained a serious, long-term condition and cannot work.
There are, however, limits to what a private investigator can legally do. He or she is prohibited from:
Trespassing on your private property
Taking photos through the windows of your home
Entering your home without your permission
Wiretapping your phone or monitoring your conversations
Installing a tracking device on your vehicle
Pretending to be a police officer or insurance agent
Private investigators are also prohibited from gaining unauthorized access to your social media, email, computer or other electronic data. They also cannot intimidate or make threats (verbal or physical).
Should I Be Concerned About Anything?
If you believe that you are being followed by a private investigator, it is important to take certain precautions to avoid jeopardizing your case. Continue to avoid doing any physically demanding activities, especially in public (running and/or jogging, swimming, hiking, etc.). A private investigator will be checking to see if the activities you do in a public setting are consistent with the nature of your claimed injuries.
Doing these types of activities too soon and before you are medically cleared by your doctor could make your injuries worse. It could also damage your credibility by making it seem you are not hurt as badly as you claim.
Avoid posting on social media, especially photos or videos, that shows you going out with friends or taking a trip. It may appear as if your life has returned to normal and you have no limitations due to the crash. Even photos of you smiling could be misconstrued or used against you by the insurer.
You may assume that if your social media settings are private, there is no way a private investigator can gain access to your accounts. However, a private investigator may create a fake profile to try and get you to accept his or her friend request. It is important to remember that nothing posted online is entirely confidential.
You should also make sure that you attend all doctor's appointments and follow treatments. If a private investigator sees you often in public going to and from a doctor's office, clinic or hospital, it will be less likely for him or her to help the insurance company prove you are not seriously hurt. If you have hired a lawyer, be sure to let your lawyer know if you suspect a private investigator is following you.
Building a strong case for compensation after a crash is not solely based on gathering supportive evidence. Your credibility plays a big role. You do not want to be seen as dishonest or misleading.
When a Private Investigator May Cross the Line
If you feel you are in danger, call the local authorities. With the help of the police, you may be able to stop any illegal surveillance against you or report anyone who is trying to intimidate or harass you.
There are several things that a private investigator can do that are considered harassment. When this happens, you may have the right to take legal action. However, this can be difficult without legal representation. Be sure to inform your lawyer about any conduct that may be illegal. Your lawyer can help protect you and contact the insurance company or local authorities on your behalf.
Get the Legal Help You Need After a Crash
There is no risk in reaching out to have an experienced attorney at Gordon & Partners assist you. Injured crash victims who hire legal help often obtain more in compensation than those who do not. The legal process can be challenging. We know what it takes to fight for the maximum compensation.
Our firm has recovered millions on behalf of Florida residents. The initial consultation is free of charge with no obligation involved. We do not get paid unless we help you obtain a recovery.