General Motors problems continue to worsen. The company has been hit with dozens of lawsuits seeking billions in economic losses and investigations have revealed that the auto manufacturer schemed to keep information on the faulty ignition switch secretive.
In the past week General Motors Co. has agreed to pay a $35 million fine to settle an investigation by the National Highway Traffic Safety Administration (NHTSA) and have recalled millions more vehicles. To date, the company has recalled approximately 13.8 million vehicles for a number of safety issues that need to be repaired.
U.S. Regulators have disclosed details about the probe into GM's handling of the recall that involved faulty ignition switches. According to regulators, the company discouraged the use of certain Judgment Words in written communications about problems with their vehicles. Slides of words that employees should and should not use were presented during the company's 2008 Interior Technical Learning Symposium.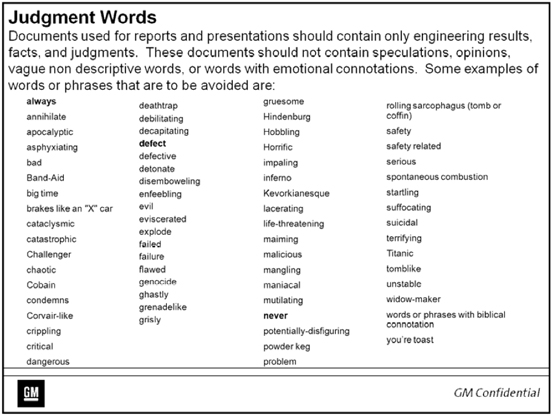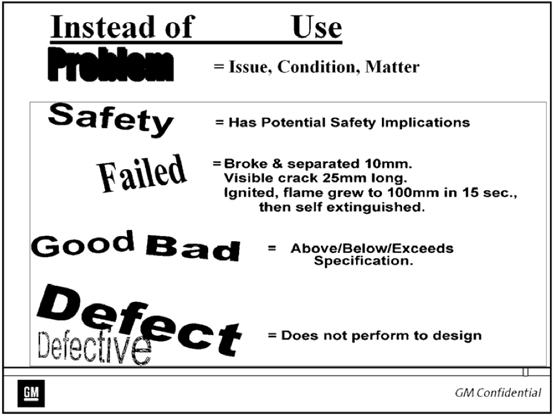 The auto manufacturer has admitted that they took these steps, but are now encouraging employees to use factual statements. GM also plans on continuing to improve their safety processes with the NHTSA. As part of the settlement, GM's top vehicle-safety executives will meet with NHTSA officials to review safety compliance for the next three years.
Regulators also revealed that the company had information back in 2009 that should have linked the faulty ignition switch to airbag deployment failure during an auto accident.
General Motors is now facing nearly 80 lawsuits from consumers whose vehicles have been depreciated due to the faulty ignition switch. These lawsuits are demanding as much as $10 billion. GM has been sued in 20 additional class-action lawsuits that are also related to the recalled vehicles, some lawsuits have even cited Delphi Corp., who manufactured the ignition switches for GM, as a defendant.
A panel of judges still has to rule on whether or not GM may be held liable for claims that occurred before its 2009 bankruptcy. The decision will not be handed down until later this month when the judges will also decide if the lawsuits should be combined into one and what federal court should handle them.
If you have been injured in an accident that you believe was caused by a faulty car part, you may be eligible to file a damages claim for financial compensation. For more information, contact a personal injury attorney at our law firm today by calling 1 (855) 722-2552.
Gordon & Partners – For The Injured. Ph: 1 (855) 722-2552.