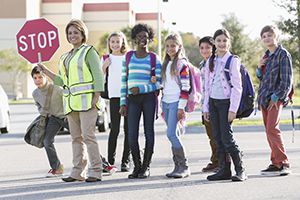 Children across Palm Beach County and across the country walked to school today, Oct. 7, in recognition of International Walk to School Day. About 50 schools in the area and more than 250,000 children nationwide were set to participate in the event.
Safe Kids Palm Beach County and FedEx host the event every year. This year marks the 18th year that a day has been set aside as a way to bring together communities, parents, teachers, children and community organizations in an effort to raise awareness aboutpedestrian safetyand the importance of walkable communities.
Each day, 44 children are hit by a vehicle when walking along the road in the United States. This event aims to significantly decrease that number through education and awareness. It is an opportunity for parents and children to participate in local events to learn more about how to walk safely.
If you are unable to attend an event near you, parents are encouraged to have a conversation with their children to teach them about the importance of walking safely. Below are a few tips you can share with your children.
Put your phone down and keep your head up and alert to your surroundings
Only cross the street at the crosswalk
When crossing the street, look left, then right, then left again
Continue looking in all directions as you cross the street until you safely reach the other side
Always walk along a sidewalk
If there is no sidewalk, walk facing traffic and as far away from the vehicles as possible
Always be aware of surrounding vehicles that are backing up or turning
Make eye contact with the driver of each vehicle before crossing the street
If your child or someone you love is hit by a car as a pedestrian,our experienced team of personal injury attorneys can help you get the justice you deserve.
Call 1 (855) 722-2552 or complete aFree Case Evaluationform.