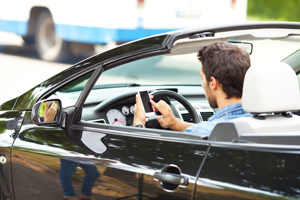 More and more automakers are working to add technological features into their vehicles. From Wi-Fi to GPS, car manufacturers are working to get consumers constantly connected.
Unfortunately, new studies are finding that all these fun features are distracting drivers even more than before. Two new studies have found that voice-activated smartphones and dashboard systems may be making the distracted driving problem worse.
Studies by the AAA Foundation for Traffic Safety and the University of Utah revealed that many of these infotainment systems and smartphones are so error-prone or complex that drivers are more likely to be distracted while using them.
In one study, infotainment systems in five different vehicles makes were tested. In the second study, Apples Siri was tested for navigation, texting, making social media posts and using the calendar.
The systems were tested by 162 university students and volunteers in a driving simulator laboratory and in cars while driving through a city neighborhood. The voice-activated systems were graded on a distraction scale of one to five, with one being the least distracting and five being the worst.
The worst rating came from Apples Siri. During two different test drives in the simulator, the drivers using Siri rear-ended another car. Chevrolet's MyLink also received one the worst ratings. Overall, infotainment systems from four of the automakers were rated as more distracting for drivers than talking on a hand-held phone. The vehicle manufacturer with the least distracting infotainment system was Toyota's Entune, which had a score of 1.7 on the scale.
Although the systems are supposed to allow drivers to perform tasks hands-free, their inability to perform the tasks correctly means that drivers are becoming distracted to either fix the error or complete the task.
The National Highway Traffic Safety Administration has issued guidelines to automakers and cellphone makers with voice-activated systems, but the guidelines are voluntary. The question now is, will police be able to begin regulating the use of these systems to protect the general public?
If you or someone you love has been injured in an accident caused by a distracted driver, the car accident attorneys at Gordon & Partners have the experience to help guide you through the entire legal process and will fight for the justice that you deserve.
For a free review of your claim, call a West Palm Beach injury lawyer at 1 (855) 722-2552 or fill out our online contact form.