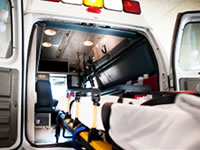 Luis Aviles, 34, died in a helicopter crash near the Palm Beach County Park Airport on Monday, Dec. 29. Johnathan Desouza, a student pilot on board, is currently in critical condition.
The crash occurred in John Prince Park, which is just 100 yards north of the County Park Airport, around 10:30 a.m. A witness to the accident said he heard the helicopter sputtering just before it fell to the ground. The helicopter was sideways before it tipped over, only pieces of it remained after the crash.
Aviles died at the scene of the accident while Desouza was taken by Trauma Hawk to a local hospital.
The National Transportation Safety Board (NTSB) and the Federal Aviation Administration are still investigating the cause of the crash. On Tuesday, Dec. 30, the NTSB said that the wreckage has been examined and will be taken to an aircraft salvage facility in Fort Piece. A preliminary report will be issued in 10 business days, but a full report will take 12 months.
Helicopter accidents are typically caused by operational errors, a mechanical malfunction or an electrical malfunction. Although the number of helicopter accidents have decreased over the years, the smallest mechanical, electrical of operational error can quickly lead to a fatal aviation accident.
The aviation accident attorneys at Gordon & Partners send their deepest condolences to the Aviles family during this difficult time. Our personal injury lawyer s genuinely understand the distress that can be associated with the unexpected loss of a loved one.
If someone you love was wrongfully killed in an aviation accident, we can help you recover compensation for funeral and burial expenses, pain and suffering and more.
To learn more about how we can help, call 1 (855) 722-2552 or fill out our online contact form.