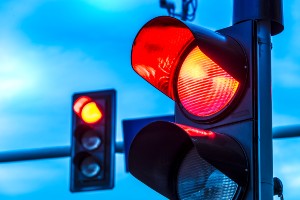 All Florida drivers are legally obligated to stop at a red light. However, many drivers choose to disobey this traffic law and speed through. This act can result in serious accidents and injuries for other drivers, passengers, pedestrians and bicyclists. Red light accidents happen frequently but are preventable.
If you have been hurt by a red light runner, you may be able to secure compensation to cover medical costs to treat your injuries, loss of income from missing work while in recovery, and more.
Our team of attorneys have been helping accident victims obtain maximum compensation for their damages since 1993. We welcome the opportunity to review your claim and discuss the legal options that may be available to you during a free initial consultation.
Running a Red Light in Florida
Running a red light can be especially dangerous. The Insurance Institute of Highway Safety (IIHS) reports that red light accidents account for more than 800 deaths and over 130,000 injuries each year.
There are several reasons a driver may run a red light without stopping. He or she may be:
Speeding and in a hurry to get somewhere
Distracted and oblivious that the light has turned red
Driving while drowsy and slower to react to the light changing
Driving under the influence and not concerned with stopping
In certain cases, a driver may attempt to stop, but be unable to. This can happen if a car part is defective, such as the brakes suddenly not working. Bad weather conditions due to heavy rain can also cause a driver to hydroplane or slide across an intersection. However, most red light accidents are due to negligence.
Violations and Penalties Involved
Failing to stop at a red light can result in fines and points on a driver's record. Generally, red light violators who are pulled over by a police officer and receive a ticket are subject to a fine between $150 to $275 and three demerit points to their driving record. It is important to note that automatic red camera tickets do not any add points to a driver's record.
However, too many points can result in a suspended license. If running a red light causes serious injury or death, other major charges will be applied. A red-light runner could also receive a DUI conviction.
Compensation for Red Light Accident Victims
Red light accidents can cause serious harm, including broken bones, whiplash, traumatic brain injuries, spinal cord injuries and internal organ damage.
These injuries can result in costly medical bills, leaving you unable to work for some time. Your vehicle may even be significantly damaged, resulting in extensive repairs or a total loss.
After a red-light accident, you could get compensated for your damages through your personal injury protection (PIP) and property damage liability (PDL) policies. These policies are mandatory for all Florida drivers to carry. You could receive up to $10,000 from each policy.
Taking Legal Action Against a Red-Light Runner
There is a limit to the amount of compensation PIP and PDL policies can offer. You cannot receive over $10,000 in compensation from each policy, despite your medical bills and repair costs being higher.
However, you may have grounds to file a lawsuit to recoup compensation if your injuries are severe enough. To take legal action against a red-light runner, the burden of proof will be on you to show that the other driver was negligent. He or she failed to drive as a reasonable person would have under similar circumstances.
A car accident lawyer in West Palm Beach is ready to help you prove the following:
The driver owed you a duty to stop at the red light
The driver breached this duty by failing to stop at the red light
This breach in care led to the accident and your injuries
The accident led to you to suffer tangible damages
No Upfront Fees
Ph: 1 (855) 722-2552
Failing to stop at a red light is usually considerable proof that the other driver was to blame. Traffic laws are meant to be obeyed and intended to keep others on the road safe from harm. When a red light violator causes an accident, evidence can be collected to help support a viable case for compensation.
A lawyer will conduct his or her own investigation into what happened, looking at video (traffic light cameras, surveillance footage, etc.) and photographic evidence (of the accident scene, your injuries, property damage, etc.) to help show that the light was red when the other driver decided to run it.
Getting in touch with witnesses and looking over any filed police reports after the accident could also help show that the other driver acted negligently and had no excuse for running a red light.
We Are Ready to Help. No Upfront Fees.
Have you been seriously hurt by a red-light runner? You may be able to pursue compensation through an insurance claim or by filing a lawsuit instead. Gordon & Partners is here to help every step of the way.
Read some testimonials from satisfied clients and give us a call anytime – 24 hours a day, seven days a week – to schedule a completely free, zero-obligation legal consultation.