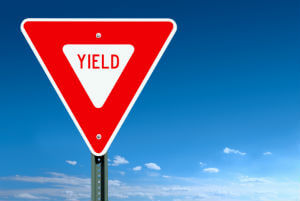 Failure to yield the right-of-way is the second leading cause of fatal accidents and injuries in Florida motor vehicle accidents, only behind careless driving. Drivers may be confused about which driver should go first in various scenarios. Understanding these rules is important in order to protect yourself and other drivers in any given traffic situation.
If you have been injured in a car crash, our experienced West Palm Beach car accident lawyers can review your situation and evaluate your legal options during a free consultation. We often conduct thorough investigations to collect strong evidence to help prove liability in failure to yield accidents.
Who Has the Right-of-Way in Florida?
In Florida, no one has the right-of-way. The law only dictates who must give up or yield the right-of-way and reminds motorists sharing the road with others to do everything to avoid a preventable accident.
When Are Drivers Legally Required to Yield the Right-of-Way?
Drivers must legally yield the right-of-way in the following situations:
To pedestrians and traffic at stop signs and must move forward only when the road is clear
To pedestrians crossing any marked crossing or intersection
To visually impaired pedestrians or those using a mobility assistive device (wheelchair)
If two vehicles get to a four-way stop at the same time, the driver on the left must yield the right-of-way to the driver on the right
At a T-intersection to a vehicle that is traveling on a through road
To vehicles currently at a roundabout when entering a roundabout
To vehicles going straight if at a two-way stop
To vehicles already on a highway when entering the state highway from a secondary road
If on an unpaved road, you must yield the right-of-way to a vehicle on a paved road
If at an intersection without a traffic signal or a stop or yield sign, you must yield to any vehicle that arrived at the intersection before you did
When entering the road from a driveway or alley
To emergency vehicles, such as police cars, ambulances and fire trucks
When turning left at an intersection, you must yield the right-of-way to vehicles from the opposite direction
What If Someone Does Not Yield the Right-of-Way?
Even if the other driver was supposed to yield the right-of-way, you must still yield or stop whenever possible for safety. This is because Florida law requires other drivers to do everything possible to avoid a crash. However, a person who fails to yield the right-of-way can be stopped by police and can get points added to their driving record for failing to yield.
Additionally, if the driver's failure to yield resulted in car accident, you may be able to file a claim against the party responsible for your injury and other losses.
Contact Us for Legal Help After a Car Crash
Failure to yield accidents can sometimes be complex and difficult to prove. It may be hard to determine which person arrived first at an intersection or when another right-of-way issue is involved in the accident. If you were involved in a car accident, we recommend that you contact a lawyer for legal help.
Our attorneys at Gordon & Partners work diligently to ensure that our clients obtain the justice they need. We offer a free consultation to discuss your claim and determine if you have a viable case against a negligent driver. Since we work on a contingency fee basis, you pay us nothing for our services until we are able to collect compensation on your behalf.
Learn more about your rights today by calling 1 (855) 722-2552.