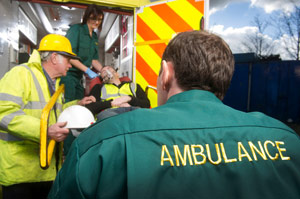 A 76-year-old man died Saturday, June 18, after being ejected from an SUV on Interstate 95 near Okeechobee Boulevard in West Palm Beach.
According to Florida Highway Patrol, the man was in the front passenger seat of a Nissan Pathfinder that was towing a utility trailer full of sod. The vehicle was traveling southbound around 12 p.m. when the trailer began to swerve, causing the driver to lose control. The SUV drove off the west side of the highway where it overturned.
The Delray Beach man was thrown from the vehicle during the accident and was pronounced dead at the scene of the crash.
The 53-year-old driver, also from Delray Beach, was wearing a seatbelt and suffered only minor injuries. He was transported to St. Mary's Medical Center.
The cause of the accident is still under investigation, but police do not suspect drugs or alcohol were factors in the crash.
Ejection Risks When Not Wearing a Seatbelt
It is estimated that seatbelts have saved nearly 300,000 lives in the United States since 1975. Research has determined that seatbelts help reduce serious crash-related injuries and death by about 50 percent.
The National Highway Traffic Safety Administration describes seatbelt use as the single most important safety measure you can take to protect yourself and keep you secure inside your car. If a vehicle is involved in a collision, a passenger who is not belted could easily be thrown from the vehicle, where the chance of surviving is severely decreased.
Wearing a seatbelt is a vital part of staying safe in a vehicle, which is why law enforcement across the country utilize the "Click it or Ticket" campaign to enforce seatbelt laws. In Florida, the campaign ended just two weeks ago.
The West Palm Beach car accident lawyers at Gordon & Partners encourage all motorists to wear their seatbelt every time they are in a vehicle. If you were injured or lost a loved one, our personal injury lawyer s can help you get the compensation you need.
Call 1 (855) 722-2552 or complete an online contact form to schedule a free consultation.