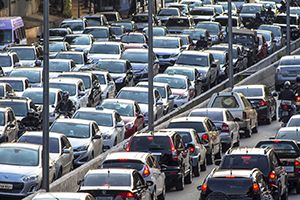 Traffic isn't the only factor that makes driving through Florida a worrisome experience – a new survey shows that three Florida highways are among the most dangerous in the country.
A survey released by EverQuote found that Florida's I-4, I-95 and I-10 have some of the highest fatality rates in the country. The survey considered fatalities on interstates throughout the U.S. over the last six years.
Interstate 4 which runs from Daytona Beach to Tampa was ranked as the most dangerous in the country.
Interstate 95 was ranked the 5th most dangerous in the U.S. It extends 1,926 miles from Miami to Houlton, Maine.
Interstate 10 ranked as the 7th most dangerous highway in the country. It runs 2,460 miles from Jacksonville to Santa Monica, California.
Each of these Florida highways have ranked among the 10 most dangerous for the last six years. I-95 and I-10 are among the busiest in the country, with high average daily traffic. Other states that are home to top 10 most dangerous highways include Texas and Arizona.
In addition to having the highest highway fatality rates, the survey also shows drivers in Florida rank as the 2nd worst for cellphone use while behind the wheel. Florida drivers average 1.4 cellphone uses per vehicle trip.
In the state, distracted driving is considered a secondary offense, and drivers cannot be pulled over by law enforcement officers solely because distracted driving was observed; another primary violation must have been committed to warrant a traffic stop.
If you sustained injuries in an auto accident that was not your fault, you may be entitled to compensation for your medical bills, lost wages, and pain and suffering. The car accident attorneys as Gordon & Partners will fight to recover maximized compensation for your claim.
Call 1 (855) 722-2552 or fill out our Free Case Evaluation form today.