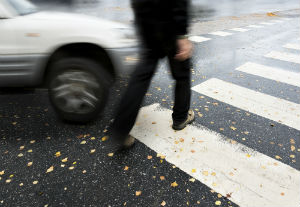 According to a study conducted by 24/7 Wall Street, Florida is one of the most unsafe states in the country for pedestrians.
The study found that the Sunshine State ranks second only to New Mexico in the number of pedestrians killed in our state every year. In 2014, New Mexico had 3.55 pedestrian deaths for every 100,000 residents, while Florida had 2.96. The safest state was Minnesota with 0.27 pedestrian deaths.
The other top 10 most dangerous states for pedestrians includes Delaware, Nevada, Louisiana, South Carolina, Arizona, Alabama, Alaska and New Jersey.
The study ranked all 50 states by analyzing data from the National Highway Traffic Safety Administration from 2014 that included total traffic and pedestrian fatalities. They also compared those numbers to data from 2004 to determine if there had been a change in pedestrian fatalities over the last ten years.
In 2014, Florida had a total of 588 pedestrian fatalities. The state also had the third highest number of total traffic fatalities with 2,494.
The study noted that 76 percent of pedestrian deaths happen in urban areas. Other factors that contribute to a high number of pedestrian deaths include the prevalence of sidewalks and speed limits.
Pedestrian safety is an important part of motor vehicle safety. When a driver is acting recklessly, speeding, driving while distracted or under the influence of drugs or alcohol, they may not see a pedestrian and can cause severe harm if they strike someone walking along the road.
The injury lawyers at Gordon & Partners have seen firsthand the devastation that results when drivers hit a pedestrian. We can help you seek just compensation if you have been injured or lost a loved one due to a negligent driver.
Contact us today for a free, no obligation consultation.