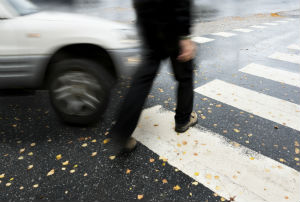 A new report released in January showed that Florida is one of the most dangerous states for pedestrians, according to Smart Growth America, a national advocate for smart development.
The report, titled "Dangerous by Design" reveals that between 2005 and 2014, there were 46,149 pedestrians killed by cars while walking, which equals 13 people per day. The risk is higher in Florida than anywhere else in the country.
According to the report, from 2005 to 2015, there were 5,142 pedestrians killed in Florida. Roughly 1,500 of those occurred in South Florida.
Nine Florida metro regions made the top 20 list for most dangerous areas for pedestrians. In fact, the top seven areas are all in Florida.
These include:
Cape Coral-Fort Myers
Palm Bay-Melbourne-Titusville
Orlando-Kissimmee-Sanford
Jacksonville
Deltona-Daytona Beach-Ormond Beach
Lakeland-Winter Haven
Tampa-St. Petersburg-Clearwater
North Port-Sarasota-Bradenton comes in at number ten and Miami-Fort Lauderdale-West Palm Beach is number 11.
The two other states that were included in the top ten were Mississippi and Arkansas, coming in at numbers eight and nine respectively.
This is the fourth time Smart Growth has released this report, and Florida has been a front-runner each time.
Trends and Findings
A breakdown of the data from the reports shoes that those over age 65 are 50 percent more likely to be killed in a pedestrian-vehicle accident. Those of color are 46 percent more likely to be killed in a pedestrian crash.
The report also showed that low-income areas usually have higher danger ratings – that is, as median household incomes decrease, the pedestrian danger index increases.
The report indicates that poor planning and infrastructure for bicyclists and pedestrians contributes to an increase in pedestrian deaths. Palm Beach County has recognized the growing problem and is working to create a plan to address it.
Late last year, a Palm Beach Metropolitan Planning Organization (MPO) committee analyzed Palm Beach County crash data for accidents involving bicyclists and pedestrians from 2010 to 2014 to identify the hot spots and dangerous corridors where the majority of accidents occur.
By creating a heat map of the data, they found two corridors with significantly higher rates of pedestrian and bicycle accidents with vehicles:
Lake Worth Road from Jog Road to downtown Lake Worth
Military Trail from Melaleuca Lane to Community Drive
With this information, the committee is creating a plan of action to help reduce these hot spots. The plan will be presented to the MPO board early this year and will include suggestions such as:
Adding space in medians where pedestrians can safely wait to continue crossing a road
Limiting right turns on red, which is a significant safety issue for pedestrians
Increasing on-street lighting
Creating bike boxes, or marked areas where bicyclists can stop ahead of vehicles at traffic lights
If you have been injured or lost a loved one in a pedestrian accident, the West Palm Beach pedestrian accident attorneys at Gordon & Partners can help you determine if you have a legal case and are entitled to compensation. Contact us today for a free consultation.
Call 1 (855) 722-2552 or complete a Free Case Evaluation form.