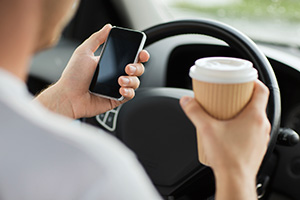 Distracted driving contributed to 12.2 percent of all Florida car crashes in 2015 causing morethan 200 deaths.
In efforts to lower these numbers and keep Floridians safe while traveling throughout the state, the Florida Department of Highway Safety and Motor Vehicles (DHSMV) is participating in national Distracted Driving Awareness Month this April. The department's "Focus on Driving, Florida" campaign aims to educate drivers about driving while distracted to encourage drivers focus solely on driving when behind the wheel.
Various activities can cause different types of distraction, including
Visual distraction occurs when a driver takes their eyes off the roadway.
Manual distraction happens when drivers remove their hands from the wheel.
Cognitive distraction takes place when a driver thinks of something besides driving.
Behaviors that affect a driver in all three ways, such as texting and driving, are especially dangerous. Distracted driving affects everyone on the roads, not only drivers. Vehicle passengers, bicyclists and pedestrians are put in harm's way when drivers shift their focus from driving to other activities.
Younger Drivers Largely Affected
Although Florida's Distracted Driving Awareness Month campaign targets drivers of all ages, according to the Florida DHSMV, drivers under age 30 are most often involved in distracted driving accidents.
Nearly 20,000 Florida drivers between the ages of 15 and 29 were involved in distracted driving accidents in 2015, representing 43.7 percent of the total. Additionally:
Distracted drivers between the ages of 20 to 24 were involved in more accidents than those in any other age group, representing 17.8 percent of all drivers in accidents.
Drivers ages 25 to 29 made up 14.3 percent of all drivers in crashes.
Drivers 15 to 19 made up 11.6 percent of the total.
Were you or a loved one injured in an automobile accident where distracted driving was a factor? If so, our car accident attorneys will work to help you recover fair compensation.
Schedule a free review of your claim by calling 1 (855) 722-2552 and let an injury lawyer at our law firm review the merits of your claim.