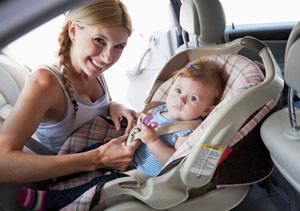 With summertime just around the corner and temperatures in South Florida already starting to hit the 90's, the National Highway Traffic Safety Administration (NHTSA) has embarked on a campaign to help raise awareness about the dangers of leaving babies and young children unattended in parked cars.
The campaign, titled "Where's Baby? Look Before You Lock", is being promoted with the help of KidsAndCar.org, with the latter helping to distribute information packets for new parents in hospitals nationwide.
In a statement from NHTSA Administrator Mr. David Strickland:
"Everything we know about this terrible danger to children indicates heatstroke in hot cars can happen to any caregiver from any walk of life — and the majority of these cases are accidental tragedies that can strike even the most loving and conscientious parents…."
It's important to note that especially in South Florida, car interiors can quickly heat up to a deadly temperature in as little as 80 degrees, with children under the age of 4 being especially vulnerable due to their inability to regulate their body temperatures as effectively as older children.
In most instances, the body of the child cannot cool down by sweating, which causes a condition known as "heat stroke" the top non-accident cause of fatalities for children in motor vehicles. This then causes the body to absorb heat instead of dissipating it, causing throbbing headaches, nausea, dizziness, cramps and in severe cases, brain damage, blindness and even death.
However, there are steps that parents can take to try and eliminate this dangerous health concern:
NEVER leave your children unattended in a vehicle
Always look for your children before you leave the vehicle. Putting your cell phone next to their car seat is a good reminder to avoid the temptation to text and drive, while also helping to ensure that you look for you phone (and the child that it's next to) prior to exiting your vehicle.
Check the door locks on all doors and in the process, look in the back seat.
If you see an unattended child in a vehicle, call 9-1-1 and report the incident and then try to remove the child from the vehicle. If successful, place the child in the shade (under a tree or awning) and give them water to cool them down.
At the law offices of Gordon & Partners, our injury lawyers urge all South Florida parents to be sure to check their vehicle for their children and to stay safe on the roads during the summer driving season.
In the event of becoming a victim of an accident or if your child has been incorrectly supervised by a caregiver and left in a vehicle unattended, you may be eligible to file a damages lawsuit.
To learn more about your options, contact our car accident lawyers today at 1 (855) 722-2552 and find out how we can help. You can also reach us online by completing the "Free Case Evaluation" form on this page and we will contact you shortly after we receive your inquiry.
We proudly offer 100% FREE consultations and at Gordon & Partners, you wont owe us any fees or costs if we are unable to recover financial compensation for you.