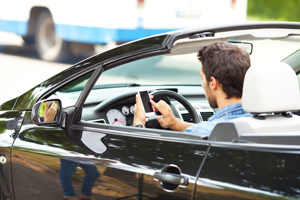 In an effort to curb the staggeringly high accident rates that are the result of drivers being distracted by cell phones while behind the wheel, the National Highway Traffic Safety Administration (NHTSA) has launched it's "U Drive, U Text, U Pay" campaign that is squarely targeted at raising awareness of this dangerous practice.
With the month of April being declared "National Distracted Driving Awareness Month", the NHTSA coincided the launch of the campaign to help gain as much exposure as possible, particularly with those in the teenage driving group, who are increasingly become victims in auto accidents that are largely caused by distracted driving practices.
At the law offices of Gordon & Partners, our personal injury lawyer s and entire team support this initiative and urge all South Florida motorists to put the phone down when behind the wheel.
In fact, many cell phone carriers currently offer (or are working on) apps that will automatically send an "out of office" type of response to incoming calls and texts once a vehicle starts moving at more than 25 mph.
In the event that you or someone that you love is involved in an accident that was caused by another motorist that was texting and driving or distracted while behind the wheel, contact our auto accident lawyers today.
We have extensive knowledge of Florida's traffic and auto insurance laws and proudly offer 100% FREE consultations to help determine if you have sufficient grounds to file a damages lawsuit.
For more information, call us today at 1 (855) 722-2552. At Gordon & Partners, you wont owe us any fees or costs if we are unable to recover financial compensation for you.