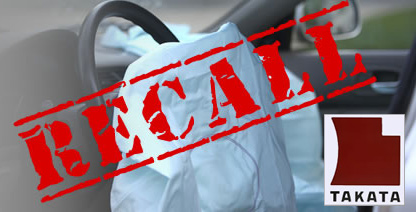 The National Highway Traffic Safety Administration is demanding that auto manufacturers recall millions of additional cars that are equipped with potentially defective Takata airbags.
The decision, announced on the administrations website on Nov. 18, is based on the agency's evaluation of airbag failures that occurred outside of the regional recall area and the location of other drivers side airbag ruptures. Specifically, incidents involving a death in California and North Carolina were of interest to the NHTSA.
By demanding this national recall, NHTSA has demonstrated once again that it will follow data and evidence to protect the lives of Americans on the road and to hold manufacturers accountable, said Secretary Anthony Foxx.
Although Takata agrees that the current recall should be expanded, they have expressed concern that a national recall could divert replacement airbags from where they are needed. The airbag manufacturer is currently struggling to make enough airbag inflators to replace the inflators in vehicles that have already been recalled.
A Special Order to Takata has also been issued. The order will require the manufacturer to provide, under oath, documents and detailed information on the propellant used in Takata's inflators. The company recently announced that it changed the chemical mix of its airbag inflator propellant, which may have prompted the NHTSA's Special Order.
A General Order was also issued to Takata and all vehicle manufacturers that use Takata airbag inflators. The order requires each manufacturer to produce and file, under oath, all related documents about completed, ongoing or planned testing of Takata inflators outside the current regional recall areas.
One day after the NHTSA's announcement, the Orange-Osceola Medical Examiners Office determined that shrapnel from a faulty airbag killed an Orlando motorist last month. Hien Trans wounds were so severe that police officials thought they were dealing with a possible homicide. In the autopsy report, photographs revealed plastic and metal fragments throughout the driver compartment and multiple tears to the airbag. Law enforcement also found fragments of loose metal still present within the deflated airbag.
If you or someone you love has been injured by a defective airbag, contact the Takata airbag lawyers at Gordon & Partners to determine what your legal options are.
For a free review of your claim, contact a personal injury lawyer from our law firm by calling 1 (855) 722-2552 or fill out our online contact form.