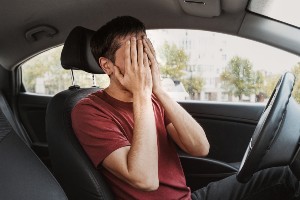 If you are in a crash, it is not uncommon to have no recollection of the crash or the moments leading up to it. Experiencing memory loss, however, can be concerning for crash victims who are looking to pursue a legal claim. Victims may feel that they do not have enough credibility to build a strong case.
Even if you cannot remember what happened before, during or after the crash, you may still be able to obtain compensation for your damages. Every case is different, which is why we recommend working with an experienced attorney sooner rather than later to help gather the supportive evidence you need.
A free consultation will allow us to review your situation in greater detail and give you the opportunity to learn more about your available legal options. There are no upfront fees for us to take or work on a case.
Different Types of Memory Loss After a Crash
There are different types of memory loss experienced by crash victims. Some victims may have difficulty forming new memories while others cannot recall facts or past experiences.
Post-Traumatic Amnesia
Victims with post-traumatic amnesia often become confused and experience memory loss immediately after the crash. They may have been unconscious for some time. Some crash victims may even be unable to recall their own names, where they are or what day it is.
Anterograde Amnesia
This is the most common type of memory loss for crash victims. Anterograde amnesia often happens after experiencing trauma to the brain (i.e. a blow to the head). Victims cannot form new memories for some time after the crash, meaning they cannot remember a period of time after the head injury.
Retrograde Amnesia
Victims who experience a loss of memories they had before the crash may have retrograde amnesia. Recently formed memories are often affected first. Crash victims may be unable to remember names, dates and major life events. Older memories from childhood may also be affected.
If you are experiencing memory loss after a crash, it is important to seek medical care. While a crash victim's memory may come back within a few days, there is a chance that it might be a symptom of a more serious condition. The sooner a doctor can assess your injury, the faster you can be diagnosed and treated. If left unchecked, your injuries could worsen and have a long-lasting impact on your life.
Reasons You May Not Remember the Crash
When a victim cannot remember the crash, they often also have no memory of the time period right before or after the crash. This is quite common and may happen for several reasons:
Trauma – Being involved in a crash can be a traumatic experience. If the crash resulted in serious injury or death, this trauma can cause the brain to block out details of the crash.
Concussions – Concussions are caused by a strong impact on the head. Victims with a concussion may have short-term memory loss after a crash. They may be unable to recall anything that happened in the moments leading up to and the moments after the crash.
Traumatic brain injury (TBI) – A TBI is a more severe jolt or blow to the head. Crash victims may not recall old memories, memories of the crash or form new memories.
Survival response – Crash victims can experience a flight or fight response – the body senses danger and responds to the threat. The brain becomes focused on survival versus creating new memories. Memories of the crash may not exist or be altered.
The chaos that occurs after a crash can also make it hard to remember specific details about what happened. If you can, write down anything you can remember about the crash. Do this directly afterward while things are still fresh in your mind.
Pursuing a Legal Claim If You Cannot Recall the Crash
Even if you cannot recall the crash, you may still be able to obtain compensation for your damages. Pursuing a legal claim will require gathering evidence to prove the negligence of the other driver.
The police report – although inadmissible as evidence in court – may contain useful information and lead to evidence to help prove the cause of the crash and who may be liable for damages.
Photos of the crash scene and the damages to vehicles may help show how the crash occurred. Surveillance video may have also captured the crash or what happened leading up to the crash.
There may be witnesses (i.e. other drivers, passengers, pedestrians or bicyclists) who saw the crash and could provide valuable insight into what happened. Witness statements could help support your claim by showing your innocence, validating your injury and proving the other driver caused the crash.
Your medical records will also be able to show the extent and severity of your injury. The success of a legal claim often depends on whether a crash victim is receiving prompt and appropriate medical care.
Learn How We May Be Able to Help You
Injured in a crash? A car crash lawyer in West Palm Beach is here to help. We are prepared to conduct a thorough investigation and gather the evidence needed to build a strong case on your behalf. Our firm has advocated for many crash victims over the years, recovering millions of dollars for our clients.
The initial consultation is free of charge. There is no risk or obligation involved. We charge no fees or costs unless we help you obtain compensation in a settlement or verdict.