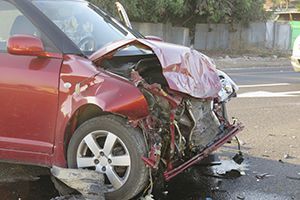 A violent overnight crash in Palm Beach Gardens killed two when two vehicles collided head-on. The collision happened on Northlake Boulevard just west of Military Trail shortly after midnight on Nov. 19.
The crash involved an SUV with a trailer attached and a Nissan Rouge. According to officials, a large explosion engulfed both vehicles in flames. Neighborhood witnesses reported hearing a loud boom after the accident occurred.
The vehicles were so badly mangled and melted that it took rescue crews several hours to recover the victims. The battalion chief said he had never seen vehicles burn in that way after an accident.
The cause of the wreck remains unclear. Eastbound lanes on Northlake Boulevard remained closed for several hours after the crash.
Dangerous Collisions
Head-on collisions are one of the most dangerous types of auto accidents. Although they only account for approximately two percent of driving accidents, they make up ten percent of all driving fatalities. The sheer force at which two vehicles collide in a head-on collision often leaves very few survivors.
For those collisions that are not fatal, drivers and passengers are frequently severely injured, often suffering from traumatic brain injuries, spinal cord injuries and other catastrophic injuries.
With decades of experience representing injury victims in South Florida, the personal injury lawyer s at Gordon & Partners have seen the devastation that so often results from a head-on collision. If you or your loved one was injured or killed in this type of accident because of another's negligence, you deserve justice.
We have the resources to investigate the accident scene and to fight against the negligent party so that you receive the compensation you deserve for your injuries. Contact us today for a free consultation to discuss your legal rights.
Call 1 (855) 722-2552 or complete a free case evaluation form.