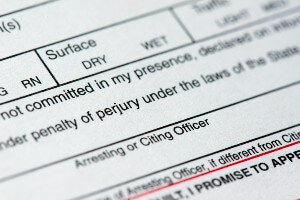 A past driving conviction, regardless of how minor, could be used against you if you are attempting to pursue a car accident settlement or lawsuit. It could impact the amount of compensation you may be able to recover to help cover the costs of medical bills and loss of income, among other damages.
That is why it is in your best interest to consult with a qualified lawyer. He or she can guide you throughout the legal process and will fight to get you the full compensation needed after an accident.
Gordon & Partners discusses multiple driving convictions that may hurt your car accident case. Have a past conviction and need legal help? Our firm is ready to answer your questions. A consultation with a member of our legal team comes at no cost or obligation to you.
Pursuing a Case with a Past Conviction
When an individual is convicted of a driving offense after an accident, he or she is not likely thinking about how it may impact a claim down the line. He or she may assume that having a past conviction cannot be used as evidence if you decide to pursue a car accident case.
Unfortunately, a driving offense could impact the right to compensation in civil court if the conviction occurred fairly recently. Generally speaking, a conviction that occurred within 10 years of the civil matter in question may potentially be used against you. For example, if you were formerly cited for speeding in the last five years, it will be harder to show that you were not acting negligently when the accident occurred.
There are, however, exceptions to the rule. Florida law states that a past conviction cannot be used as evidence in civil court if it is so remote in time that it has no bearing on the present character of the witness. This means that if you pursue a car accident case this year and you were convicted of a driving offense twenty years ago, evidence of that conviction may not be permitted into evidence.
Whether you are attempting to obtain compensation in a settlement or lawsuit, it is important to treat prior convictions seriously. Should you head to court, a judge or jury will be the one deciding whether you share some fault in the accident and the compensation amount, if any, you could receive.
Common Driving Convictions in Florida
Every driver has a duty to operate his or her vehicle safely and responsibly. Those who fail to abide by traffic laws not only endanger themselves but also others sharing the roadway.
Some common driving convictions in Florida include:
Reckless driving (i.e. driving under the influence)
Fleeing the scene of an accident
Failing to leave information after hitting an unattended vehicle
Careless driving (i.e. driving distracted)
Driving too fast for conditions
Failing to stop at a red light or stop sign
Failing to yield the right of way
Not obeying traffic signals
These convictions are in place to help protect road users. The number of points assigned depends on the type of conviction and will remain on a driver's record for at least five years from the date of conviction. Too many points accrued over a certain period of time will result in driving privileges being suspended.
Benefits of Having Legal Representation
If you have a past conviction and are concerned about how it may affect your case, we advise that you obtain legal representation. Be honest and forthright when talking about your conviction with your lawyer. It may be embarrassing or difficult to have this conversation, but just be mindful that your lawyer will perform a thorough investigation and will likely find out about any past convictions.
The other side will also need to be informed. The last thing you want to do is withhold information, even if you think it is irrelevant. You do not want to be seen as dishonest or misleading, particularly if you are trying to settle a case or being cross-examined in court. Credibility is of the utmost importance in a lawsuit.
A Case Evaluation is Completely Free
Reach out to a car accident lawyer in West Palm Beach to see how we may be able to help. A free case evaluation will allow us the opportunity to review your situation and allow you to learn more about your potential legal options. Even if we determine that you have a case, you are under no obligation to hire our firm. There are no upfront fees if we take or work on a case.