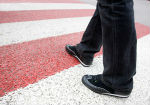 On Wednesday evening, a pedestrian and bicyclist were each struck in West Boca Raton within one hour of each other.
A woman was struck by a vehicle while walking in suburban Boca Raton just before 8 p.m. at Palmetto Park Road and State Road 7. She was rushed to hospital for treatment; her current condition remains unknown.
About a half hour later, a bicycle rider was struck just outside of Boca West Country Club located north of Glades Road and east of the Florida turnpike. Further information on the victim, including his current condition, has not been released.
Florida is Deadly for Pedestrians and Bicyclists
In 2014, Smart Growth America released a report that ranked large metro areas by pedestrian danger. The four most dangerous metro areas were in Florida with Miami-Fort Lauderdale-Pompano Beach ranking as the fourth most dangerous metro area in the nation. Between 2003 and 2012, more than 1,500 pedestrian deaths were reported in the area.
Over the years, several efforts have been made to improve pedestrian safety including increased crosswalk times, better lighting and even the use of pedestrian flags. Unfortunately, the number of pedestrian accidents has not improved over time.
Bicyclists are also in danger along Florida roadways. Florida's death rate for cyclists is three times higher than the national rate. Between 2012 and 2013, the rate of bicyclist fatalities increased by more than 16 percent.
The West Palm Beach personal injury lawyer s at Gordon & Partners urge drivers to be more aware of pedestrians and cyclists. Sharing the road is crucial in preventing serious accidents. Pedestrians and cyclists must also follow the rules of the road in order to avoid accidents and injuries.
If you or someone you love has been injured as a result of a negligent motorist, we can help you fight for your rights.
For a free case review, call 1 (855) 722-2552 or fill out a Free Case Evaluation form.