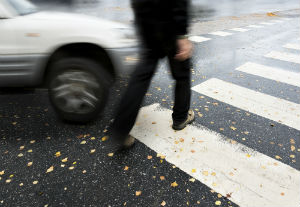 According to a recent report from the Governor's Highway Safety Association, there was a 10 percent increase in pedestrian deaths between 2014 and 2015.
The annual report, released in March 2016, states that U.S. pedestrian deaths have increased 19 percent from 2009 to 2014. The estimated 10 percent increase in pedestrian fatalities in 2015 will be the largest increase in deaths from one year to the next since records have been kept. This ever-growing number is a sign that pedestrian safety throughout the U.S. is a significant issue.
As the cost of vehicle ownership continues to rise, more people of all ages are choosing to travel by foot instead of by car. The health benefits of walking have also encouraged more people to walk. According to the report, the increased number of pedestrians across the country is a contributor to rising pedestrian fatality numbers.
Distracted driving and distracted walking, as well as alcohol use by walkers are also factors contributing to rising death totals among pedestrians. In fatal vehicle versus pedestrian accidents, 34 percent of pedestrians killed had a blood alcohol content of .08 or more, compared to only 15 percent of drivers.
Pedestrian Deaths Rise While Traffic Fatalities Fall
Pedestrian fatalities accounted for 15 percent of all vehicle collision deaths in 2014, and is projected to hold steady in 2015; 1990 was the last time pedestrian fatalities made up such a large percentage of total traffic deaths.
While pedestrian fatalities are rising, the total number of traffic deaths has actually fallen – it is safer to drive on U.S. roadways than to travel them by foot. Improved vehicle safety technology and automobile crashworthiness has likely contributed to the decline.
If you have lost a loved one in a pedestrian versus vehicle accident, you may be entitled to compensation. The pedestrian accident lawyers at Gordon & Partners will fight for justice for your family.
Call 1 (855) 722-2552 or fill out our Free Case Evaluation form now.