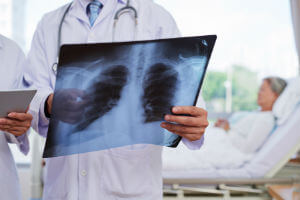 Injuries caused by misdiagnosis are often severe, and when a person has pneumonia, this mistake can cost the patient his or her life. It is the duty of the physician to observe the symptoms and diagnose the condition correctly. If there is negligence or a breach in the duty of care owed to the patient, the patient may consider filing a medical malpractice claim.
If you or a loved one suffered injury because of a misdiagnosis of pneumonia, it is imperative to contact a knowledgeable West Palm Beach medical malpractice lawyer at Gordon & Partners to assist with your claim. We can discuss your legal rights and explain whether or not medical negligence may be involved.
Why Pneumonia is Often Misdiagnosed
Pneumonia is a dangerous infection that causes the air sacs in the lungs to become inflamed. The infection can be caused from bacteria, viruses, or fungi and should always be taken seriously.
The condition of pneumonia is a common affliction, but it also appears similar to several other medical conditions. This often leads to misdiagnosis. Other conditions that mimic the symptoms of pneumonia include the following:
Acute respiratory distress or failure
Bronchitis
Heart attack or pulmonary edema
Legionnaire's disease
Adult measles
Some forms of lung cancer
Pulmonary embolism
Sepsis or blood poisoning
Tuberculosis
Influenza or the flu
Strep throat
Sinus infection
The wrong treatment for severe pneumonia can either harm the patient or provide useless assistance. At the same time, the patient could suffer worse from symptoms of pneumonia and need to seek another doctor's diagnosis.
A Doctor's Duty to Diagnose Your Condition
The medical professional assigned to a case has a duty of care to diagnose the patient properly. However, it is a more serious matter if the patient has a rare or more serious form of pneumonia. The doctor can fail in his or her duty if any of the following occur:
Failure to order x-rays or other diagnostic tests
Failure to order blood tests if necessary
Rushing the examination
Failure to take a thorough patient history
Failure to consider different or similar diagnoses
The serious lack of instruction or follow-up care
Mistakes in prescribing medicine
Failure to foresee complications
A medical professional has a duty to properly diagnose the patient and ensure appropriate and complete medical care. This is essential to perform the job and to protect the patient. This requires asking questions, acquiring medical records and ordering all relevant tests based on the symptoms described.
When Doctors Are Liable for Medical Malpractice
The doctor is generally liable for a misdiagnosis if it causes harm to the patient. This can include a clear breach in the duty of care owed or reckless behavior. Some factors that can lead to a finding of medical malpractice include the following:
Exposing the person to aggressive treatment with the wrong diagnosis
Needlessly exposing the patient to a harmful treatment such as radiation
Unnecessary surgical procedures performed that can lead to scarring or disfigurement
Increasing the likelihood of complications or death
Delayed diagnosis that increases the chances of severe or fatal pneumonia
Some doctors misdiagnose the condition because of a failure to read test results correctly. Others are careless or too quick to diagnose the issue without properly checking all the issues. Some may not know what to look for while others immediately prescribe a course of treatment that can prove fatal to the patient. It often takes a legal professional to determine if the doctor was negligent.
Contact Us If You Have Been Misdiagnosed
If you or a loved one has suffered because of a misdiagnosis involving pneumonia, it is crucial to contact Gordon & Partners about the matter. We can discuss and review your claim during a free consultation. We can explain the duty of care the doctor owes you as a patient and how a breach of this duty can lead to a valid medical malpractice claim. We will obtain the medical records related to your case and review all relevant materials to determine if the doctor or medical facility is liable.
With our experience and dedication, we will seek the maximum compensation available for your claim. Contact us to schedule a free consultation. We only get paid for our services if you win.
Call 1 (855) 722-2552 today to see how we might be able to help you.