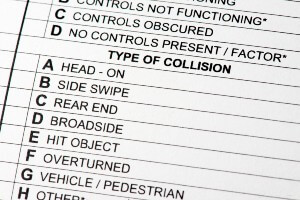 No matter how serious or minor an accident is, it is important to call the local authorities and report what happened so that a police report may be filed. A copy of this report will be needed if you want to make a claim to pursue compensation for your injuries and damages caused by the at-fault driver.
If you have been injured in a car accident, we encourage you to reach out to a West Palm Beach car accident attorney from our firm today. A free consultation will allow you to learn about your rights, available legal options and ask any questions you may have about the entire process.
Helpful Information Found in Police Reports
A police report contains useful information and lead to evidence to help prove the cause of an accident, as well as who may be liable for the injuries you have suffered. Being able to directly connect the accident to your injuries is important when seeking maximum compensation.
Examples of information often found in police reports include:
Basic accident details – At bare minimum, the police report will contain the approximate date, time and location of the car accident.
Statements from each driver – After reporting the accident, the responding officer will speak with you and the other driver(s) to gain a better understanding of what happened and who may be responsible.
Contact details from all parties – The report will include personal and insurance information from all involved parties as well as contact details from anyone who may have seen the crash.
Narrative of the events – The police report will contain a narrative of events that led up to and what may have caused the accident, along with the officer's own conclusions about what happened.
Injuries and damages – The report should contain a description of injuries that you and the other driver(s) sustained and any damages to vehicles or other property at the scene.
Tickets or citations – The officer will make a notation if a traffic ticket or citation was issued. This can be important to help prove that the other driver was acting negligently.
Photos and diagrams – The report could have pictures showing the severity of the accident or a diagram of the scene showing the point of impact of the cars involved.
Weather or road conditions – The police report may contain details about the weather or road conditions at the time of the accident. This information could help show that the other driver was not operating his or her vehicle safely through poor or inclement conditions.
Ways a Police Report Could Impact Your Case
A police report could impact your potential case in two significant ways:
Settlement Negotiations
Insurance adjusters will closely examine the police report and the officer's own conclusions when evaluating claims. Your attorney can use the report to put together a comprehensive argument for you, demonstrating what happened to help prove that the other driver was responsible. In doing so, you may be more likely obtain a favorable settlement offer.
Lead to Other Evidence
Aside from your attorney conducting his or her own accident investigation, the police report could offer additional evidence, such as other witnesses to the crash or another potentially liable party or parties. If an accident reconstruction expert is hired, the report could help the expert better reenact the events that led up to and caused the accident.
Can a Police Report Be Admitted Into Evidence?
Courts generally consider police reports hearsay, which means that it cannot be admitted into evidence in most cases. A police report is often inadmissible since the responding offer did not personally witness the accident. It is his or her opinion of what he or she believes transpired. Any notations in these reports are from statements given by those involved in the crash.
Even if the police report cannot be used in a courtroom, anyone who may have witnessed the crash may be able to testify on your behalf. Statements may be admissible as evidence if an eyewitness is able to speak about what he or she observed.
Speak With a Licensed Attorney Today
If you need legal help, a licensed attorney at Gordon & Partners is prepared to assess if you have a viable case. You may be eligible to seek compensation to help cover medical bills, vehicle repairs, loss of income and other-related expenses. We have obtained millions of dollars for our clients, including $13,500,000 in a single car accident case.
Our initial consultations are complimentary with zero obligation to hire us. Should you decide to move forward, we charge nothing up front. We only receive payment if we recover compensation for you.