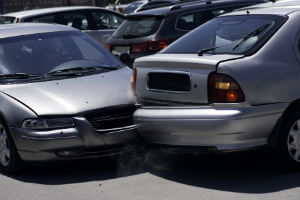 If you are filing an insurance claim or a personal injury lawsuit after a car accident, it is vital that you determine who was at fault for the accident and your injuries.
If the other party's negligent or careless actions caused your accident, you may be entitled to compensation. However, if the other party proves you were partially at fault for the accident, your compensation could be reduced.
To prove fault after an accident, there are several pieces of evidence you should gather to support your claim. Our car accident lawyers can work with you to obtain the evidence you need for a strong car accident claim.
Car Accident Fault in Florida
Because Florida is a no-fault insurance state, you will always file a claim with your own insurance company after a car crash, regardless of who was at fault.
The only exception to this rule is if you suffered a permanent injury, disfigurement, or significant or permanent scarring. In this case, if you were not at fault for the accident, you can file a case against the at-fault driver and his or her insurance company to obtain additional compensation.
When determining the compensation you are able to recover from your initial claim with your insurance company or from any subsequent personal injury lawsuits, fault will be an important factor.
This is because Florida follows the rule of comparative negligence, which states an injury victim's compensation award can be reduced by his or her percentage of fault in causing the accident.
For example, if you were speeding when you were hit by a car that ran a red light, you may be found to be 10 percent at fault for your injuries. This would mean that your compensation will be reduced by 10 percent. If you were awarded $10,000, you would only be able to recover $9,000.
Proving Fault
Proving fault for a car accident requires showing that the at-fault party failed to act as a reasonable person would have.
All motorists have a duty to ensure the safety of others on the road by following traffic laws, such as obeying the speed limit, stopping at all stop signs and red lights, not texting while driving, and not driving under the influence of drugs or alcohol.
Any failure to uphold this standard of care can be considered negligence, and the at-fault party could be held liable for any resulting injuries.
Proving that the at-fault party failed to uphold his or her standard of care and was negligent requires gathering evidence such as:
Witness Statements
One of the many steps you should take after a car accident is to obtain the contact information for witnesses of the accident.
Witnesses can provide valuable insight into the moments leading up to the crash and the collision itself. They can add details to your report with information about what the at-fault driver was doing before the crash and what the conditions were like at the accident scene.
Once you have collected the names, phone numbers and email addresses for witnesses, our attorneys will contact them to take their statement.
Photos and Videos
While at the accident scene, you should also take photos of the scene, the damage to the vehicles, your injuries and any skid marks on the road. This visual evidence will be vital to proving your claim.
If possible, we will also try to obtain video footage of the accident from nearby surveillance cameras and videos from onlookers.
Florida Traffic Laws
If your car crash was caused by the at-fault driver breaking a traffic law, reviewing the Florida driver's handbook can help you identify the laws that were broken. The handbook provides detailed information about all laws that motorists in the state must follow.
The car accident lawyers at Gordon & Partners are also well-versed in all of these laws and will be able to help you identify those that were broken and how they apply to your case.
Car Accident Reports
Florida law requires that the driver of a vehicle involved in an accident resulting in injury, death or property damage of approximately $500 report the accident to the local police department within 10 days of the crash.
However, if a police officer responds to the accident and files a police report, you do not need to report the accident on your own.
In either situation, you should always obtain a copy of the traffic crash report. This will provide valuable information about the details of the accident, if one of the parties violated a traffic law and who caused the accident.
"No-Doubt Liability"
In certain types of traffic accidents, one party is almost always at fault, regardless of the circumstances. These "no-doubt liability" accidents include:
Rear-End Accidents
If you are rear-ended by another vehicle, the accident will almost never be your fault. This is because all motorists should leave enough space between vehicles when driving so they can stop in the event of an emergency. If you are struck from behind while driving, it is likely that the other vehicle was not driving safely.
However, if your tail light was out or if you failed to move a stalled vehicle safely from the road, you could be held partially liable for the accident.
Left-Turn Collisions
A driver making a left turn is typically considered at-fault in any accident.
However, in some cases, the left-turning driver may not be to blame, such as if you ran a red light or were speeding and struck the left-turning vehicle or if an unexpected road hazard caused the driver to stop or decrease speed in your path.
The car accident injury lawyers at Gordon & Partners can help you gather this evidence and build a strong case to support your case. Contact us today for a free, no obligation consultation. We do not get paid unless you do.
Call 1 (855) 722-2552 or complete our Free Case Consultation form today.