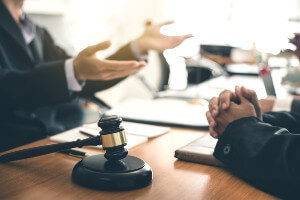 If your car accident claim cannot reach a favorable settlement, filing a lawsuit and going to trial may be necessary. There are certain procedural steps to follow in order to take legal action, including discovery. During this phase, you may be asked to answer questions and provide information concerning your claim. Your lawyer can also obtain valuable information from the other party at that time.
Our legal team is ready to assist you through this process. We often prepare our clients on the kinds of questions you can expect to be asked and how to respond to them, as well as which questions to ask the other party. The initial consultation to review your claim and discuss your legal options is free with zero obligation. There are also no upfront fees to get started and no fees while we work hard on a case.
The Discovery Phase
After a lawsuit is filed, either party can initiate discovery. The purpose of discovery is for each party to gather and exchange important information needed to prove their claim or make a defense. Discovery also enables the parties to know before trial what evidence may be presented so there are no unwanted surprises. This phase also involves requesting subpoenas, taking depositions, as well as responding to interrogatories.
What Are Interrogatories?
Interrogatories are an important part of the discovery process. They are a formal set of written questions that one party involved in a lawsuit sends to another party. These questions must be answered truthfully under oath. Most of the questions asked are to gain relevant information, learn more about the evidence and clarify any possible issues in the case.
Under the Florida Rules of Civil Procedure, Rule 1.340, a party can serve any other party written interrogatories to be answered. The party must submit their answers within 30 days of being served. Any objections to interrogatories need to also be submitted within 30 days.
If a party decides not to answer interrogatories, the other party can file a motion to compel. Should the interrogatories still not be answered after this filing, the party can be held in contempt of the court.
Questions Asked in Car Accident Interrogatories
Although each case is different, questions generally covered in car accident interrogatories include:
How did the crash happen?
Where were you going when the accident occurred?
Were you covered by auto insurance at the time of the crash?
How fast were you driving prior to the accident?
Have you been in any accidents in the past ten years?
Are glasses or contacts necessary when driving?
Were you on medication when the accident occurred?
Have you missed time from work due to the crash?
What types of injuries did you sustain in the accident?
What kinds of damages have you suffered?
Did you seek medical attention after the accident?
It is also important to be prepared to provide the following information to the other party:
Your version of how the crash happened
Names of anyone who witnessed the accident
List detailing the nature and extent of your injuries
List of all medical professionals who have treated you
Description of your earnings and work history
Documents you plan to present at trial
Names of any expert witnesses you plan to call at trial
Other Information Exchanged Between Parties
Both parties may also exchange information in different ways. For instance, each party involved should have collected one another's contact details and insurance information at the scene of the accident.
Other information that could be gathered less formally includes requesting copies of medical and/or employment records. Each party may even exchange the following:
An experienced lawyer at our firm can help prepare a subpoena to collect all relevant documentation.
Call Gordon & Partners for a Free Consultation
Need legal help after a car accident? Reach out to a licensed vehicle crash lawyer in West Palm Beach. Our firm has a proven track record, obtaining millions in compensation on behalf of injured accident victims. We are dedicated to helping you achieve the best possible outcome via a settlement or verdict.
The consultation is completely free and comes with no obligation to retain our services. We do not get paid unless you get paid. We are available to take your call anytime, day or night.