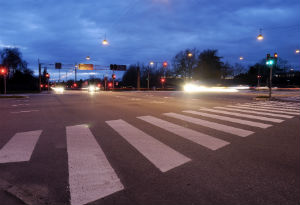 In a recent announcement, the U.S. Department of Transportation's National Highway Traffic Safety Administration (NHTSA) is requiring new hybrid vehicles make more noise when in operation in an effort to protect pedestrians, especially those with visual impairments or who are blind.
When traveling slowly, electric and hybrid vehicles are quieter than most cars, posing a safety risk to pedestrians who may not be able to hear them or determine which direction the vehicles are coming from.
All electric and hybrid vehicles with a gross vehicle weight of 10,000 pounds or less will have to make noise when moving at less than 19 miles per hour or when backing up. The sound requirement is not necessary when traveling at higher speeds because other factors already provide an audible warning.
Auto makers must ensure their new hybrid and electric cars have federally approved sounds installed by Sept. 1, 2019 to meet the new government standard called the Federal Motor Vehicle Safety Standard No. 141. Half of all vehicles must be in compliance one year before the deadline.
The new regulation could prevent about 2,400 pedestrian injuries per year after newer hybrid fleets have the equipment installed.
Pedestrian Deaths on the Rise
According to a report released in early 2016 by the Governor's Highway Safety Association, pedestrian accidents across the country increased by 10 percent between 2014 and 2015. The report noted that this was the largest year-to-year increase in history.
Another study conducted by 24/7 Wall Street found that that Florida is one of the least safe states for pedestrians. In 2014, there were 2.96 pedestrian deaths for every 100,000 residents in the state, the second worst rate in the country.
The West Palm Beach pedestrian accidents at Gordon & Partners can help you fight for the compensation you deserve if you or a loved one has been hit by a car as a pedestrian. We have seen firsthand the devastation often caused by these types of accidents.
Call 1 (855) 722-2552 for a free, no obligation consultation.