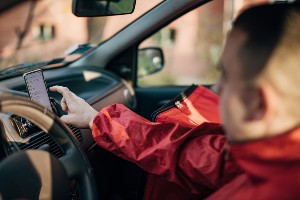 Food delivery services have become quite popular. More people are working as delivery drivers for companies like Uber Eats, DoorDash, Grubhub and Postmates to earn extra money. However, this increases the risk of a crash with drivers who are in a rush to make as many deliveries as they can.
If you have been injured in a crash involving a food delivery driver, you may be unsure about how to go about pursuing compensation. Are you able to file a claim against the at-fault driver's insurance policy? Is the delivery driver's employer legally responsible for your damages?
These are difficult questions you should consider discussing with an experienced lawyer. Our automobile crash lawyers in West Palm Beach have helped many car crash victims secure maximum compensation. The initial consultation comes at no cost or obligation to you.
Fault for a Crash with a Food Delivery Driver
Florida drivers involved in a crash must typically go through their own insurance company to recover damages – regardless of fault. Should your injuries be serious enough and exceed the limits of your policy, you may be able to file a claim with the at-fault driver's insurance policy to recoup your losses.
Most food delivery drivers in Florida carry personal auto policies. However, the at-fault driver's personal auto insurance may deny coverage if he or she was actively making a food delivery. This could be considered a commercial driving activity.
If the food delivery driver has a separate insurance policy to cover a crash that may happen while making food deliveries, you may be able to file a claim against the policy. Otherwise, you may be able to file a lawsuit against the delivery driver if he or she has enough money or assets to cover your losses.
Insurance Coverage for Food Delivery Drivers
Most food delivery service companies classify their drivers as independent contractors, not as employees. This means that under the law, such companies may be absolved from liability for a driver's actions.
However, a food delivery driver may not have enough auto insurance to cover a victim's damages if he or she caused a serious crash. Some food delivery services companies may carry limited insurance liability in these situations. Below is an overview of insurance coverage provided by popular food delivery service companies:
Uber Eats Auto Insurance
Uber Eats has collision and liability insurance to help cover bodily injury and property damage caused by one of their delivery drivers while picking up food or delivering an order. The company provides $1 million in liability coverage per crash, which also applies if the driver was waiting to make a delivery or accept an order when the crash happened. Uber Eats also provides liability coverage of up to $50,000 per person if the driver lacks enough personal auto insurance and was in between making a delivery.
DoorDash Auto Insurance
DoorDash has limited liability insurance for bodily injury and property damage. Coverage only starts once the driver picks up an order. The company will not cover damages in a crash if the driver was on his or her way to pick up an order or was waiting to accept an order.
Grubhub Auto Insurance
Grubhub does not provide insurance coverage if their delivery drivers are involved in a crash. Drivers are responsible for any damages they cause while making deliveries and in between deliveries. Victims will only be able to pursue a claim for compensation against the delivery driver's insurance company.
Postmates Auto Insurance
Postmates has liability insurance for bodily injury and property damage. Coverage starts as soon as the driver accepts an order up until the time the order is delivered. The company will not cover damages in a crash if the driver was waiting to accept an order.
A food delivery service company may claim no liability, but this does not mean that a qualified attorney cannot assist you. He or she can help determine if there is a legal basis for the company to use this defense.
Injured in a Car Crash? Call Gordon & Partners
Our firm is dedicated to helping injured crash victims obtain just and fair compensation. Since 1993, we have successfully recovered millions in compensation on behalf of our clients.
An initial consultation with a member of our legal team is 100 percent free and completely confidential. You are not obligated to move forward even after we determine that your claim has merit. We also do not charge anything upfront if you decide to retain our services. We only get paid if you get paid.