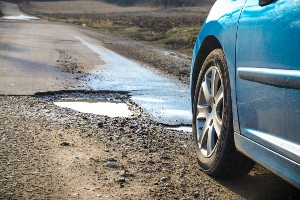 Most car accidents are due to driver negligence, but poor or defective road conditions can also cause a crash and lead to serious injuries for drivers, passengers and other motorists. Roads that are inherently dangerous could result in certain entities who oversee or work on the roadway, to become potentially liable for any injuries. However, proving fault for these accidents can be difficult without legal help.
Our vehicle crash lawyers in West Palm Beach explain when government entities may be negligent for road defects and what it takes to recover compensation. Find out if you have a case in a free consultation.
Dangerously Defective Road Conditions
Several poor or defective road conditions that can contribute to a car accident include:
Potholes, pavement cracks or uneven road surfaces
Damaged, missing or hidden road signs
Malfunctioning traffic lights and signals
Missing or inadequate guardrails
Inadequate lighting on the roadway
Road debris, such as trash, cargo or building materials
Oil spillage or other slippery surfaces
Pavement and shoulder edge drop-offs
Faded paint markings in the center or edges of a road
Untreated roadways during snowy or icy weather
These defects can endanger the safety of drivers and others on the road. It can cause a driver to lose control of his or her vehicle and result in a tip over or a crash with another vehicle or fixed object. The longer a defect has been known to exist, the stronger your claim for compensation could be.
This is why it is important after these kinds of car accidents to identify the hazard. If possible, take a picture of it so that you have documented evidence of the hazard that resulted in your injuries.
Potential Liable Parties for Road Maintenance
To have a valid claim for compensation, you would need to identify who owed you a duty to keep the road safe. Generally, the following potential parties could face liability:
The government agency responsible for road upkeep
Private businesses if the crash occurred in a parking lot or private road
Any entities contracted with the government to do road work or construction
A product manufacturer if the product was defective and lead to the accident
Sometimes the responsible party is not always straightforward. More than one government agency could share maintenance responsibilities for a particular roadway. Having an experienced lawyer on your side could be beneficial as he or she could conduct an investigation to help determine liability.
Proving Negligence in Road Maintenance
Once the responsible party is identified, you must prove that negligence played a role in the accident and your injuries. This means establishing that the agency or company:
Knew or should have reasonably known that there was an issue with the road
Had ample opportunity to fix the situation or provide an adequate warning
Failed to take the necessary steps, which resulted in the crash
For instance, the state could have decided to cut back on funding for road repairs and now there are numerous potholes across the roadways. If your crash occurred because you hit a pothole that should have been fixed, the state may be liable for damages. During road construction, this could mean showing a safety-related defect with the planning and/or execution.
Making a Claim Against the Government
Making a claim against the government can be a complicated undertaking. Most government agencies, including the state of Florida, have sovereign immunity from lawsuits, which means they generally cannot be sued. However, there are specific exceptions that exist. Car accident claims that involve negligence can be brought against the state government as long as certain rules are followed.
You must give written notice to the state agency involved in the claim and to the Department of Financial Services. The notice must be filed within three years of the occurrence. After a 180-day investigation period, the government will make a decision. If your claim is denied, it is in your best interest to consult with a lawyer to protect your rights. You may have grounds to file a lawsuit.
Get Legal Help After a Serious Accident
If you have been injured in a car accident caused by poor or defective road conditions, you may be eligible for compensation to help cover medical expenses, loss of wages, property damage and more.
At Gordon & Partners, we know what it takes to investigate these kinds of claims. We are well-versed in federal and state laws and how they may apply to your particular circumstances.
An initial consultation with a member of our legal team is free with no obligation to retain our services. We charge no upfront fees unless we help you obtain compensation.