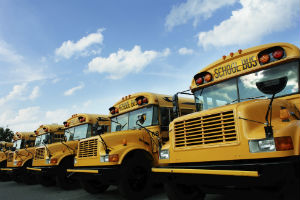 School is back in session for Palm Beach County students, which means drivers are back to sharing the road with school buses, pedestrians and kids on bicycles.
On average, about 134 fatalities in school-transportation-related crashes have been reported each year between 2004 and 2013. Thousands more school bus occupants, pedestrians and bicyclists have been injured in school bus crashes.
If you or someone you love has been hurt in a school bus accident, contact the experienced bus accident attorneys at Gordon & Partners . We can help you fight for the MAXIMUM amount of compensation you deserve.
Call 1 (855) 722-2552 or fill out a contact form.
The following safety tips can help keep students, parents and other drivers safe this school year.
Drivers
Motorists should stop at least 10 feet away from buses that have red lights flashing and a stop-arm extended.
Always stop when behind a bus or when approaching an intersection where a bus is stopped, unless there is at least a space of five feet, a raised median or physical barrier on a divided highway.
Do not proceed until all children are done getting off and or on the school bus.
Children, Pedestrians and Cyclists
Never cross the street behind a bus.
When crossing in front of the school bus, walk at least 10 steps in front of the bus.
Always walk or ride a bicycle on the sidewalk.
If waiting for the school bus, avoid being too close to the curb.
Always wear a helmet when riding a bicycle!
If you or someone you love has been injured in a school bus accident during the school year, the victim may be entitled to compensation. A personal injury attorney from our firm can offer a free legal consultation and help to determine if you're eligible to file a claim.
For a free case review, call 1 (855) 722-2552 or fill out an online contact form.