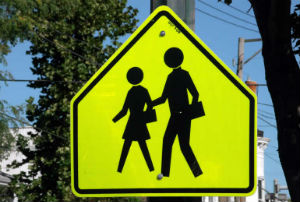 Since the start of school in Palm Beach County on Aug. 15, two children have been hit and injured by vehicles. The incidents serve as another important reminder for drivers to pay attention when near a school.
On Aug. 15, a middle school student was struck by a car while playing close to the street at the bus loop at Egret Lake Elementary School in West Palm Beach. The Palm Beach County Sheriff's Office noted that the boy "bounced off the car" and went straight to his bus.
Fortunately, the bus driver recognized that something was wrong and reported the incident to school officials. The boy was then taken to St. Mary's Medical Center with minor injuries.
On Monday, Aug. 22, a second child was hit by a car while utilizing a crosswalk outside Barton Elementary School in Lake Worth. According to the Palm Beach County Sheriff's office the driver failed to obey the crossing guard who was helping children cross the street.
The eight-year-old girl was treated at St. Mary's Medical Center for road rash and other minor injuries. The driver received citations for failing to obey a traffic device and for driving without a license.
Florida School Zone and School Bus Laws
The Florida Department of Transportation (FDOT) is cautioning motorists to always remain alert and aware of their surroundings when driving near a school. The department has issued a few important reminders for drivers:
Crossing guards are the first to enter and leave a crosswalk when helping children cross.
Drivers caught speeding in a school zone could face significant fines. The speed limit in Palm Beach County school zones is usually between 15 and 20 miles per hour.
The only instance in which a driver can pass a school bus is if there is a five-foot unpaved median or barrier between the side of the road the bus is on and where you are.
In situations where there is not a five-foot barrier between a vehicle and a school bus, drivers must stop for a bus with its stop arm extended and lights flashing, regardless of which direction they are approaching the bus from.
The West Palm Beach pedestrian accident lawyers at Gordon & Partners know the importance of driver awareness in school zones because we have seen the tragedy that can result if drivers do not obey the law. If your child has been injured in an accident, do not hesitate to contact us to learn more about your legal options.
Call 1 (855) 722-2552 or complete a Free Case Evaluation form.