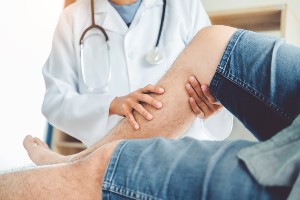 After a car accident, seeking medical attention as soon as possible is important to a victim's health, recovery and potential legal claim. Certain injury symptoms may not be visible or apparent for hours, days or even weeks. These hidden injuries can be substantial and long-lasting if left untreated.
Under Florida law, an at-fault party could be held liable for negligent actions. The success of a legal claim often depends on whether the victim is receiving prompt and appropriate medical care.
Our attorneys discuss the advantages of seeing a doctor to assess your injuries and following his or her treatment plan after an accident. We have helped many injured accident victims over the years obtain the maximum compensation possible for their losses. The initial consultation is free.
Protect Your Health and Recovery
Your first priority after an accident should be to protect your health. Accident victims may not feel pain immediately even if they suffer a serious injury. However, this does not mean that they are not hurt.
That is why it is important to see a licensed medical professional in order to identify the extent of your injuries. He or she will also be able to provide an appropriate treatment plan to aid in your recovery.
Seek Prompt Medical Attention
Once emergency personnel arrive at the accident scene, be sure to follow any medical advice you receive. Allow them to check your vital signs and examine you in the back of the ambulance.
If going to the hospital is recommended, let them transport you. A doctor will conduct a thorough exam, run tests to diagnose your condition and ask that you follow up with your primary care doctor.
Reduce Risk of Hidden or Delayed Injuries
The adrenaline experienced after a car accident can trick you into believing that you are not hurt. You may feel an increased level of energy, which can block the sensation of pain and mask the symptoms of an injury. You may not even feel the full extent of your injuries for several hours or days afterward.
Seeking medical attention could help to catch hidden or delayed injuries and prevent you from worsening your condition. If left untreated, a head, neck or back injury could be life-altering.
Follow Your Prescribed Treatment
After going to the doctor, be sure to follow his or her prescribed treatment plan. This may include:
Attending follow-up appointments
Taking certain medications
Undergoing a recommended procedure
Seeing a specialist or physical therapist
Following your doctor's orders could help you regain strength and recover faster from your accident-related injuries.
Protect Your Potential Legal Claim
Secondary to your health is protecting your potential claim for compensation. Insurance companies are invested in their best interests and not the interests of car accident victims. They will do everything possible to avoiding paying any damages. If you are planning to take legal action against the at-fault party, his or her insurance company will try to discredit your injuries to devalue or deny your claim.
This is why is important to be careful about what you say as your words could be misconstrued or misinterpreted. Appearing to admit fault or wrongdoing could impact the outcome of your legal claim.
Gather Medical Records and Detail Treatment
Medical records are a vital piece of evidence in car accident cases. These records can help establish:
Your medical condition
Diagnostic imaging results
Duration of treatment
Costs associated with your injuries
Future medical needs
Doctor's notes about your health
Your medical records can provide a strong link between the accident and the injuries you sustained. An experienced lawyer can help gather copies of your medical records from the doctor and/or the hospital that treated you. He or she can review these records to ensure there is nothing an insurer may question.
Protect your legal claim by also documenting your treatment. Keep a written detailed account of the symptoms you are experiencing, pain levels, and how your injuries have affected your daily life.
How Insurers React to Those Who Refuse or Stop Treatment
Refusing or stopping medical treatment can make it easier for an insurance company to argue that your injuries are not as serious as you claim, are preexisting or did not occur because of the accident.
A lack of treatment may amount to a reduction in compensation. Even delaying treatment may indicate a lack of urgency or severity. The insurance company may decide to deny payment by saying that your treatment would not have cost as much if you had been responsible and gotten medical care right away.
Refusing or stopping medical care gives insurance companies the chance to deny that your injury was caused by the crash. The insurance adjuster may say that your injury is not as severe as you claim.
Call Our Firm for Trusted Legal Help
If you have been injured in a car accident caused by negligence, do not hesitate to contact a reputable West Palm Beach auto accident lawyer at our firm. You may be eligible to pursue compensation to cover your medical bills, lost wages from missing work, and pain and suffering, among other losses.
We have a proven track record, recovering millions of dollars in compensation on behalf of our clients. The initial consultation comes at no cost, risk or obligation to you. There are zero upfront fees involved.