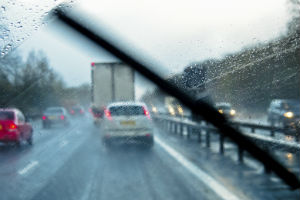 Strong storm systems wreaked havoc on South Florida roads this week. High winds and tornadoes caused vehicles to go flying through the air while heavy downpours snarled traffic throughout Palm Beach and Broward Counties.
Tornadoes Leave Path of Destruction
Bands of heavy storm systems moving across the state this week brought a number of tornado warnings for the area, even resulting in a few tornadoes touching down. One tornado touched down in northern Broward County and left a trail of destruction.
According to the Broward Sheriffs Office, a car traveling southbound on Florida's Turnpike in Coconut Creek was picked up by the wind and landed facing oncoming traffic in the northbound lanes.
The woman driving the vehicle survived the dramatic incident that caused her vehicle to go flying over the highways center divider.
The Sun Sentinel also reported a number of Truck accidents resulting from the strong winds.
One tractor trailer overturned on the highway, another truck rolled on its side and high winds ripped off the front of one trucks hood. Fortunately, no one was injured in any of these accidents.
Portions of the Turnpike were closed for a time because of the accidents.
Nearby, in a Broward College North parking lot, several vehicles crashed into each other as high winds from the tornado caused them to move throughout the parking lot.
Severe Weather throughout South Florida
Those who were not in the path of this weeks tornadoes still felt the brunt of the storms and severe weather.
Poor driving conditions caused by flooded roads, power outages at stoplights and heavy traffic lead to countless minor auto accidents throughout South Florida.
Severe weather like that of this week can lead to dangerous driving conditions. Drivers must take extra precautions when driving in wind and rain to make sure that both they and others on the road are safe.
If a negligent driver during bad weather caused an accident you were injured in, you may be entitled to compensation. Contact a reputable Florida personal injury lawyer at Gordon & Partners to schedule a free consultation to discuss your legal rights.
Call 1 (855) 722-2552 or complete a Free Case Evaluation formtoday.