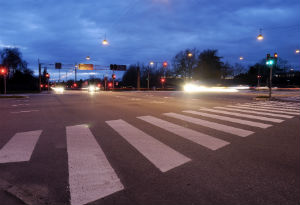 The Broward County Sheriff suffered minor injuries after being struck by a vehicle while jogging in Davie Tuesday evening, April 19.
The Sheriff was running along South Hiatus Road on the east sidewalk. He had just crossed Southwest 42nd Court and was almost back on the sidewalk when a silver Chevrolet Silverado traveling southbound turned east onto 42nd Court and struck the officer.
He was hit by the driver side mirror and the driver's rear tire ran over his foot, breaking his toe. The impact caused him to fall to the ground where he also injured his wrist.
The officer said he saw the vehicle coming and thought they would simply cross paths. Instead, the vehicle made a "radical" turn and cut the corner onto 42nd Court. The driver stated that she did not see the jogger before the accident.
In a press conference on Wednesday, the Sheriff thanked the community for its support and also thanked the driver who called 911 immediately following the accident and stayed with him until help arrived. The woman was charged with failure to use due care.
He also noted that he is very blessed and grateful for the outcome of the accident, which could have been much worse. The incident is a sharp reminder of the dangers pedestrians face when walking or running along the road.
Just last month the Governor's Highway Safety Association released a report revealing that there was a drastic increase in pedestrian fatalities in 2015. The 10 percent increase in deaths from 2014 to 2015 was the largest increase in a single year.
The Sheriff was fortunate to only suffer minor injuries in this accident; most pedestrians are not as lucky. Pedestrian accidents can cause serious injuries due to the lack of protection pedestrians have against vehicles.
If you or someone you love was injured or killed in a pedestrian accident, contact our Plantation auto accident lawyers for help getting the justice and compensation you deserve.
Call 1 (855) 722-2552 or complete a Free Case Evaluation form and let a lawyer from our law firm review the merits of your claim.