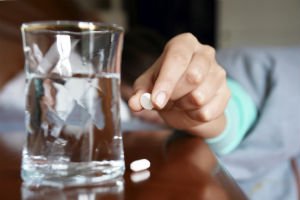 A new study has revealed that sleeping pills can double the risk of being involved in a car crash because the effects from the night before may not wear off as quickly as advertised.
Have you been injured in an auto accident caused by a driver under the influence of prescription medication? Contact the personal injury lawyer team at Gordon & Partners for a free case evaluation.
Call 1 (855) 722-2552 or fill out a Free Case Evaluation form.
The study by the American Journal of Public Health examined medical and driving records of more than 400,000 people. A correlation between the use of sleeping pills and car accidents was found. In fact, the risk of a car crash was 25-33 percent higher for those using sleeping pills, such as Ambien and Restoril.
Those who took Resotril had a 27 percent higher risk of being involved in a collision. Ambien users were considered the most at-risk and were twice as likely to get in a crash as non-users.
In 2013, the U.S. Food & Drug Administration (FDA) asked drug makers to cut the recommended dosage of sleeping pills after research revealed the drug can stay in the bloodstream long enough to interfere with morning driving. Additionally, the FDA asked that doctors prescribe the lowest dosage possible.
As the drugs stay in the bloodstream longer than expected, drivers are getting behind the wheel with the equivalent of a .06 blood alcohol concentration. The legal limit in most states is .08
Drivers are likely to be fatigued behind the wheel if the sleeping pills are still in their system, which can make it harder to react to complex situations.
Approximately 8.6 million Americans take prescription sleeping pills, which means hundreds of thousands could be putting themselves and others in danger when driving early in the morning.
If you or someone you love has been hurt in an auto accident with an impaired driver, you may be entitled to compensation for property damage, medical bills, lost wages and more.
The car accident lawyers at Gordon & Partners can investigate your claim, hire accident reconstruction specialists and build a strong case in your favor. Your initial case consultation is free.
Call us today at 1 (855) 722-2552 or fill out an online contact form.