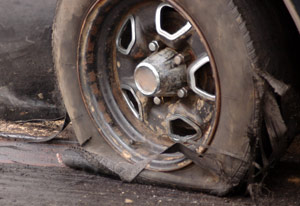 On Saturday afternoon, three individuals were killed and six others injured in a rollover auto accident that closed the Florida Turnpikes northbound lanes near Stuart.
The accident, which occurred around 4:30 p.m. near mile marker 136, involved an extended van, similar to a Chevy Suburban. A total of 11 passengers were riding in the van.
Five of the passengers ejected from the vehicle were children. Troopers identified the deceased victims as Yordi Miranda, 8, Yaretsi Miranda, 2, and Uriel Miranda, 38.
Martin County Sheriffs spokeswoman Christine Weiss told the Palm Beach Post that they believe the accident may have been caused by a tire blowout. There was noticeable tire tread separation on one of the vehicles rear tires. Additionally, the vehicle was overloaded, which can also increase the chances of a rollover crash.
Investigations into the crash revealed that Uriel and five of the children, including the deceased victims, were not properly restrained.
5-year-old Brayan Miranda, 9-year-old Angel Miranda, 10-year-old Scarlette Miranda, 3-year-old Chris Miranda and 34-year-old Imelda Miranda are in stable condition at St. Mary's Medical Center.
23-year-old Rolando Miranda along with 28-year-old Ruby Miranda are in stable condition at Lawnwood Medical Center. 7-year-old Edwin Miranda was released from Lawnwood Medical Center hours after the crash.
Seatbelt Statistics
Despite the millions of people who wear seatbelts while driving every single day, the National Highway Traffic Safety Administration notes that only 87 percent of people use a seatbelt.
Furthermore, in fatal crashes in 2012, 79 percent of passenger vehicle occupants who were totally ejected from the vehicles were killed. Seatbelts are essential in preventing passenger ejection.
Placing children in child safety and booster seats is very important. As of Jan. 1, under Florida's new booster seat law, children must ride in a crash-tested, federally approved car seat or booster seat until they turn six.
Oduver Miranda, 25, of Apopka and the driver of the vehicle involved in the deadly crash over the weekend, could be cited for the passengers not being properly restrained.
The personal injury attorneys at Gordon & Partners send their deepest condolences to those who lost a loved one during this terrible tragedy. We also wish a speedy recovery for all those injured in the crash and urge accident victims to contact a Florida personal injury lawyer to ensure that their best interests are represented.