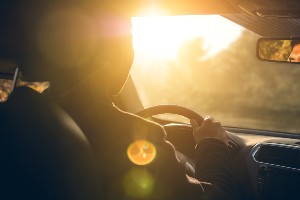 Florida drivers must be prepared for all sorts of weather conditions, including sun glare. At certain times of the day, the sun is at an angle that creates a strong glare across windshields. The bright light can cause temporary blindness and lead to a serious accident.
Our attorneys at Gordon & Partners are prepared to help victims of auto accidents due to sun glare determine who is at fault for their injuries and pursue the maximum compensation possible. Drivers who cause an accident as a result of being blinded by the sun are not immune from liability.
To find out more about your rights after an accident, contact our firm to request a free consultation. This initial meeting comes with no obligation to retain our services. We only get paid if you do.
What Factors Contribute to Sun Glare Accidents?
When a driver's sight is impaired, it can lead to a dangerous situation. According to the National Highway Traffic Safety Administration, thousands of auto accidents each year are due to sun glare. This glare can make it much harder to see the road ahead and potential hazards.
Sun glare auto accidents often happen at intersections when drivers cannot see a traffic light or traffic signal, or see other vehicles around them. Several factors may contribute to a sun glare auto accident:
A driver swerved into another lane because he or she could not see the lane markers.
A driver blinded by the sun veered into oncoming traffic and hit another vehicle head-on.
Sun glare impaired a driver's ability to see a brake light in dense traffic, causing the driver to rear-end the vehicle in front of him or her.
A driver temporarily blinded by the sun hit a pedestrian or bicyclist passing by.
The sun hindered a driver's ability to see the road ahead, causing the driver to hit another vehicle or fixed object.
Proper precautions must be taken when sunny conditions cast a glare in a driver's line of sight, especially when facing the sun at certain times of the day.
Compensation for Accidents Involving Sun Glare
All drivers sharing the road have a legal duty to take precautions to avoid an auto accident – regardless of the circumstance. Drivers are expected to use reasonable care when behind the wheel.
When a driver causes an accident and sun glare is a contributing factor, he or she could be held liable for any injuries and damages. Victims may be able to take legal action against the at-fault driver.
These claims are based on negligence The driver must have owed a duty to you and breached this duty by not acting as a reasonable person, causing your injuries and resulting in damages.
For instance, the other driver failed to take necessary and reasonable precautions before turning at an intersection, despite not having a clear view of oncoming traffic.
Victims harmed by a negligent driver may be eligible to pursue compensation to help cover past and future medical bills, lost wages, lost earning capacity, pain and suffering and more.
In Florida, even if you are assigned partial or full blame for an auto accident, you may be eligible to pursue compensation. Any amount awarded will be reduced according to your percentage of fault.
Determining fault for a sun glare auto accident, however, can be challenged. The at-fault driver may try to claim that since he or she was blinded by the sun, he or she should not be responsible for what happened. The at-fault driver's insurance company may claim that it was out of the driver's control.
Fortunately for victims, this is not a good defense since sun glare is a natural and foreseeable occurrence. Drivers know that at certain times of the day they will likely encounter sun glare.
It is in your best interest to work with an experienced attorney after an accident to make sure that your rights are being protected. He or she can communicate with the insurance company on your behalf.
Ways to Help Reduce Sun Glare While Driving
Some ways drivers can reduce sun glare while behind the wheel and avoid an auto accident include:
Investing in polarized glasses to reduce glare
Using your vehicle's sun visor to block out the sunlight
Leaving more space between you and other vehicles
Keeping your windshield clean, inside and out
Reducing your speed when the sun is impairing your sight
Taking an alternative route to prevent driving in direct sunlight
If the sun glare is especially bad and you cannot see directly in front of your vehicle, it is best to just pull over to the side of the road and wait for the sun to change position.
Reach Out for Licensed Legal Help Today
If you have been involved in a sun glare auto accident, a licensed vehicle accident attorney in West Palm Beach is prepared to evaluate your particular circumstances and discuss your legal options.
We offer initial consultations free of charge without any obligation involved. There are zero upfront fees to utilize our services and no fees unless we help you obtain compensation.