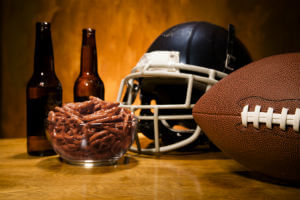 This Sunday, fans across the country will gather to cheer on their favorite team in the 51st Super Bowl. In preparation for these celebrations, which often involve alcohol, local safety officials have teamed up with the National Highway Traffic Safety Administration (NHTSA) to remind the public that Fans Don't Let Fans Drive Drunk.
This latest safety reminder encourages fans not to drink and drive and to designate a sober driver in advance of the big game.
While a blood alcohol content of .08 or higher is the legal limit for drunk driving, a lesser amount of alcohol can also be just as damaging by impairing judgment and reaction times.
In 2015, 10,265 people died in alcohol-related collisions, accounting for 29 percent of total crashes that year, according to the NHTSA. In the same year, there was an estimated one impaired driving fatality every 51 minutes.
These figures are wakeup calls to the serious consequences of drunk driving. In an effort to reduce the number of drunk driving accidents this Sunday, the NHTSA recommends the following tips.
If You Plan to Drink
Before you head out, make a game plan that includes a designated sober driver who will not drink any alcohol.
If your designated driver unexpectedly drinks during the game, find an alternate way home by calling and cab, Uber or another friend who has not been drinking.
Download the NHTSA's SaferRide mobile app, which will identify your location for friends or a cab to pick you up.
If you are unable to find a safe way home, ask the host if you can stay the night.
If You Plan to Drive
Take your responsibilities as a designated sober driver seriously. Enjoy the party, but do not drink any alcohol.
Always wear your seat belt and request that all of your passengers do so as well.
If a friend or loved one attempts to drive after drinking, intervene and take their keys to prevent them from getting behind the wheel while impaired.
If You Are Hosting a Super Bowl Party
Ask guests to designate a sober driver before the party begins.
If you do not drink during the party, offer to provide rides home.
Serve options for those who are not drinking alcohol and make sure everyone has enough food to eat and water to drink.
If you are injured or lose a loved one in an accident with a drunk driver, do not hesitate to contact Gordon & Partners for a complimentary legal consultation. Our car accident attorneys will help you determine if you have a case and are entitled to compensation for your suffering, injuries or loss.
Call 1 (855) 722-2552 or complete a Free Case Evaluation form.