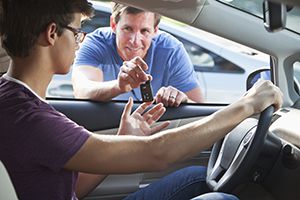 Automobile accidents are the top cause of death for teens ages 14 to 18 in the United States. In 2013, 2,614 teen drivers were killed and approximately 130,000 were injured in automobile accidents.
To encourage parents to discuss safe driving and to improve safety amongteen drivers, the National Highway Traffic Safety Administration, in conjunction with The Childrens Hospital of Philadelphias Center for Injury Research and Prevention, is sponsoring National Teen Driver Safety Week, which runs Oct. 18-24.
Educating teen drivers about staying safe can prove difficult. Most teens dont respond to the scared straight method that many parents and others attempt. According to research, teens are aware of the risks of driving and know they are vulnerable on the roads. The Childrens Hospital of Philadelphia suggests taking the approach of talking to your teen about avoiding regret, which can resonate more with young drivers.
What Teens Need to Know about Safe Driving
Alcohol use, seat belt use, speeding, texting, and extra passengers all play a role in diminishing the safety of teen drivers. This years National Teen Driver Safety Week campaign focuses on 5 to Drive five rules for teen drivers to follow before hitting the road.
No cell phones
No extra passengers
No speeding
No alcohol or drugs
Always use a seat belt
Teens and Impaired Driving
Although the national drinking age is 21, one third of teens killed in auto accidents were intoxicated at the time of the crash. Teens should know:
Never drive after consuming alcohol or drugs
Just because a driver isn't acting drunk does not mean they are not impaired
Good drunk drivers do not exist
Never accept rides from someone who is under the influence of drugs or alcohol
Has your teen driver been injured in anautomobile accident and you require the advice of a reputable personal injury attorney in Florida?
Contact Gordon & Partners today to schedule your free case review.
Call1 (855) 722-2552or complete aFree Case Evaluation.