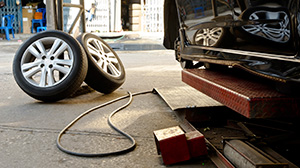 Your teenager may have an 'A' in their driver's education class, but can they check the car's tire pressure? Your child's driver's education class focuses on the rules of the road and being an attentive driver. But driving lessons often miss the mark when it comes to teaching basic car care information.
When a vehicle's tires are in a poor condition or are not inflated properly, it can result in tire-related auto accidents, such as tire blowout accidents.
NHTSA: 11,000 Crashes Each Year from Tire Failure
The National Highway Traffic Safety Administration (NHTSA) says drivers with under-inflated tires are more likely to be involved in a car accident . Still, many teens lack even the most fundamental tire safety knowledge to keep them safe on the roads.
Among the things teens should regularly check when it comes to their vehicle is the condition of their vehicle's tires, such as the pressure of the tires and the state of the treads of the tires.
Teach your teen to check their tire inflation and make sure that the tire is inflated to the right pressure for the vehicle. Your car manual will list the optimal pressure for your vehicle.
Many new vehicle models have a tire pressure indicator light. Teach your teen to recognize this symbol on their dashboard.
When it comes to car accidents, its not a matter of it but when. And thats why you want your teen to be prepared for an unexpected tire blowout.
Our firm believes that all individuals should have access to top-notch legal services regardless of their financial situation. Thats why we operate on a contingency fee basis, which means you dont pay us a fee unless we obtain a favorable outcome for your claim.
To obtain additional information about our law firm, or to schedule a free no-obligation case evaluation from an injury attorney at our law firm, we invite you to contact our firm at 1 (855) 722-2552 today to discuss the merits of your claim. Alternatively, simply fill out the "Free Case Evaluation" form on this page, and we will contact you shortly after we receive your inquiry.
At Gordon & Partners, we fight for the rights of the injured and only get paid when we win.