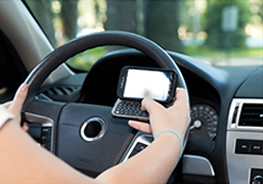 Technological advances, such as cell phones, are becoming a staple in today's society. However, while making many aspects of our lives easier and more convenient, the use of these devices while driving poses a serious threat to our safety on the roadways.
With the volume of sent text messages increasing from over 50 billion in 2005 to more than 1.7 TRILLION in 2010, it's easy to understand that texting and driving has become of the nation's leading causes of auto accidents in the United States.
If you or someone you love has been injured in an automotive accident that was caused by someone that was texting and driving, you may be eligible to claim compensation for damages associated with your injuries – including medical expenses, lost wages, pain and suffering and other related costs.
To find out how we can help, simply call 1 (855) 722-2552 fill out and submit the "Free Case Evaluation" form – it's free.
Dangers of Texting While Driving
According to a joint study conducted by the Virginia Tech Transportation Institute and the National Highway Traffic Safety Administration (NHTSA), cell phone use is a leading cause of distracted driving.
Recent studies indicate that using a cell phone while driving is comparable to driving while under the influence of alcohol. This contributes to approximately 21 percent of fatal teenage car accidents annually.
Another report released by the Virginia Tech Transportation Institute found that a driver who is texting is 23 times more likely to be involved in a car accident than other drivers. Needless to say, distracted driving is becoming a bigger problem than ever before.
With these startling statistics in mind, there are generally three primary types of driver distractions, when a motorist uses a cell phone while driving:
Taking your eyes off of the road.
Taking your hands off of the wheel.
Taking your mind off of driving.
As using a cell phone to send a text message requires the operator to use both their eyes and their hands, texting while driving essentially involves all three types of distracted driving. If a driver is texting while operating a vehicle, the chances of being involved in a collision significantly increases.
How our attorneys Can Help You
Following a car crash, it may not be immediately apparent that texting or cell phone use was a contributing factor in the accident. At Gordon & Partners, we have decades of experience handling motor vehicle collision cases, we have the resources and knowledge to help construct a comprehensive, robust lawsuit that provides an opportunity for you to obtain the compensation you deserve.
Contact a Florida Distracted Driver Accident Lawyer
Having obtained hundreds of favorable car accident verdicts and settlements for our clients, the team of attorneys here at Gordon & Partners strongly believe that negligent drivers need to be held responsible and accountable for their actions.
With offices throughout South Florida, we proudly serve injury victims in:
West Palm Beach
Ft Lauderdale
Hallandale
Hollywood
Lake Worth
Stuart
…. and most other towns and cities throughout the tri-county area.
To find out more, contact us today at 1 (855) 722-2552. Your call will be answered by a member from our intake team, and after obtaining some initial details about your incident, you will be connected to one of our lawyers – it's that easy.
For those that would prefer to start immediately, simply fill out and submit the "Free Case Evaluation" form located at the top of this page.