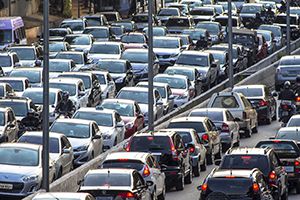 Experts are predicting that this years Thanksgiving Day holiday will be the busiest travel season in eight years. Thanks to cheap gas prices, AAA Travel expects that 46.9 million people, including 2.4. million Floridians, will travel more than 50 miles from home this holiday weekend.
Statewide, that is a 0.9 percent increase over last year, and nationally, it is a 0.6 percent increase.
Most travelers 41.9 million will choose to travel by car, while another 3.6 million will fly to their holiday destination. And 1.4 million will choose alternative modes of transportation, like trains, buses and cruise ships that is a decrease from last year.
Not surprisingly, two Florida destinations made Orbitz.coms list of top holiday destinations. Orlando is the second most desired travel destination for the Thanksgiving holiday. The popular theme park city is also a top destination for Christmas and New Years. Fort Lauderdale came in at number five for both Christmas and New Years.
Plan Ahead for Holiday Travel
With so many expected to drive for the holidays, travelers should plan ahead to avoid the busiest travel times and to decrease their risk for being involved in an auto accident . A Google analysis of travel data from the popular search engine provides some suggestions about the best times to hit the road.
If you can avoid it, do not travel on the Wednesday before Thanksgiving Day. This is when the majority of people will be traveling.
If you must travel on Wednesday, the peak travel period is between 3 and 5 p.m. Try to the road during this time, as it is when traffic will be at its worst.
When heading back home, Sunday will be a good day for travel, as most people will be crowding the roads on Saturday. Friday is actually the best option for avoiding holiday travelers on your way home.
Gordon & Partners wishes everyone a safe and happy Thanksgiving holiday. If you or someone you love is injured in an auto accident during the holiday, turn to your South Florida auto accident lawyers for help getting the justice you deserve.
Call a personal injury lawyer today at 1 (855) 722-2552to schedule a free consultation.