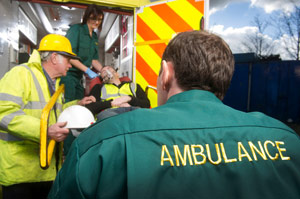 With less than six months left of 2015, the National Safety Council has announced that the number of traffic fatalities are up by one-third nationally when compared to last year.
An improved economy and lower gas prices are encouraging Americans to drive more, but that may only be part of the reason why many more fatalities have been reported.
According to the National Safety Council, 19,000 people have died in motor vehicle accidents this year.
Although the number is much higher than last year, it could be even higher now as July and August are considered the deadliest times of the year. If the trend continues, motor vehicle accident fatalities could exceed 40,000 the first time since 2007.
In the first five months of 2015, Americans drove more than 1.2 trillion miles. However, the rate of deaths per 100 million miles traveled is higher than last years rates.
While additional travel could be part of what is leading to more deaths, increased speed limits could be creating more dangerous conditions. Distractions, including cellphones and vehicle infotainment systems, are also creating conditions wherein a fatal accident is more likely. The National Safety Council estimates that a quarter of all crashes involve cellphone use.
In Florida, fatal crashes dropped by more than one percent between 2012 and 2013. However, preliminary data indicates that the number of fatal crashes in 2014 increased by a small margin.
So far, approximately 1,471 crashes with traffic fatalities have been documented by the Florida Department of Highway Safety and Motor Vehicles in 2015.
If someone you love has been wrongfully killed in a car accident, nothing can bring back your loved one. What you can do is fight for the justice you deserve, and thats what we are here to do for you.
At Gordon & Partners, we have obtained millions on behalf of families who have lost a loved in a car accident. Our personal injury lawyer s offer free consultations and can help you determine your legal options.
For a free case review, call 1 (855) 722-2552 or fill out a Free Case Evaluation form.