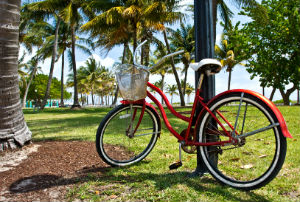 Temporary bike lanes have popped up on Flagler Drive, as West Palm Beach city officials attempt to determine if this is a safe and effective option for eliminating a lane of traffic.
West Palm Beach officials are aiming to create multiple transportation options for the city's residents and visitors. The installation of pop-up bike lanes on Flagler Drive is one element of a study examining if permanent bicycle lanes would be a practical and safe addition. These bike lanes will exist for one week and will be removed on Thursday, July 14.
Thirty volunteers worked to assemble and place signs marking the bike lanes last Thursday prior to an inaugural bike ride. The city has partnered with the Palm Beach Metropolitan Planning Organization (MPO) to determine how many bicyclists use the lanes over the study period.
City officials say this simple test could determine if there is a need for additional bicycle accommodations throughout the county. The study will allow the city to gather feedback, which will be valuable in improving the design of the Flagler Drive bike lanes. According to transportation engineers, bicycle lane design directly impacts the safety of these areas.
While bike lanes are perceived to improve cyclist safety, their efficacy has not yet been proven. Permanent bicycle lanes are thought to encourage cyclists to comply with safety laws, such as riding in the proper direction, and increase motorists' awareness of cyclists on the roads.
Current data regarding bicycle versus motor vehicle accidents is inadequate, making it difficult to determine the impact of installing bike lanes and safe bicycling practices. Those who support bike lanes believe that by installing designated roadway space for bicyclists, bicycle versus motor vehicle accident risks could be lowered.
Have you been injured in a bicycle versus motor vehicle accident? If so, you may be entitled to compensation for lost wages, medical bills, and pain and suffering. Allow our dedicated West Palm Beach auto accident attorneys to evaluate your case for free and learn what legal options are available to you.
Call 1 (855) 722-2552 or complete our Free Case Evaluation form now.