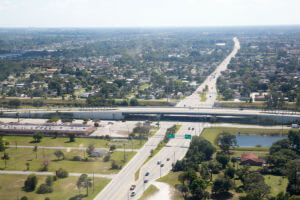 Intersections are among the most dangerous places to drive. This is because there are a lot of vehicles at intersections and traffic is coming from multiple directions. When you add in negligent driving, the risk of a crash increases dramatically. The majority of crashes may be minor, but some serious and even fatal accidents often happen at intersections.
Below, we discuss some of the most dangerous intersections in the West Palm Beach area and what you can do to stay safe traveling through an intersection. The West Palm Beach car accident attorneys at Gordon & Partners are ready to assist if you or a loved one has been injured in a car accident . We can review your case and discuss your legal options during a risk-free consultation.
Accident-Prone Intersections
There are several intersections in West Palm Beach that are significantly more dangerous during certain times of the day. These accident-prone intersections are a serious safety risk for all motorists involved because of the high volume of cars that are coming from multiple directions
Some of the most dangerous intersections include:
N Military Trl & Okeechobee Blvd
According to the Palm Beach Post, this intersection was listed as the most dangerous one in West Palm Beach. In 2017, this intersection was responsible for 183 crashes.
The intersection of Okeechobee Boulevard and North Military Trail has long been a magnet for car accidents, mostly because of the amount of traffic. More than 100,000 vehicles pass through this intersection daily.
Okeechobee Blvd & N Haverhill Rd
Travel just one-half mile west on Okeechobee to Haverhill Road and you come to the second most accident-prone intersection on the list. In 2017, this intersection was responsible for 118 accidents.
Southern Blvd & N State Road 7/S State Road 7
This intersection is located near multiple shopping centers and is known for being busy during rush hour. This can lead to rear-end collisions as motorists frequently sit in bumper-to-bumper traffic and have to hit on the brakes and slow down. This intersection was responsible for 96 crashes.
Okeechobee Blvd & SB95 to Okeechobee EB
Heading back onto Okeechobee to where it intersects with Interstate 95′s southbound exit ramp is another hotspot area for accidents. This intersection was responsible for 91 crashes.
N Jog Rd & Okeechobee Blvd
The Riverwalk neighborhood is one of the top-rated areas in West Palm Beach, but it is also the location of one of the most dangerous intersections. This area is prone to accidents because it is an intersection of two-multi lane highways. In 2017, there were 87 collisions at this intersection.
Common Types of Intersection Crashes
Intersection crashes can be attributed to many different things. Driver negligence and recklessness can increase the potential for an accident. High speeds, inattentiveness, a lack of visibility and the complex layout of the intersection can increase possible injury. Accidents often happen because drivers tailgate other cars and they fail to anticipate what drivers will do.
Common types of crashes that happen at intersections include:
Oncoming collisions between vehicles, especially when one driver turns across traffic
Rear-end accidents caused by distraction or not realizing the need to stop
Side impact crashes when a driver runs a red light
Sideswipe impacts when one or more vehicles are turning
Collisions with pedestrians or cyclists when turning
How to Drive Safely Through Intersections
It is important to remain aware of all relevant traffic conditions and rules. Taking precautions can help stop a potential disaster. It is possible to remain safe when driving through dangerous intersections by following these tips:
Approach the intersection cautiously and use your turn signal to show your intentions
Watch for other vehicles in front of you, behind you, beside you and in oncoming traffic
Avoid all distractions such as eating, listening to loud music or talking on your cellphone
Do not tailgate or rush at a light as it reduces the space between you and the vehicle in front of you
Do not speed near intersections as this can lead to a collision
Contact Gordon & Partners for a Free Legal Consultation
The more vehicles going through an intersection at any given moment, the greater the risk of a collision. If you were injured in a car accident in the West Palm Beach area, it is crucial to contact an experienced lawyer at Gordon & Partners for legal help.
We offer a free, no-obligation consultation to determine if your case is valid. If you decide to move forward, we can help you build a strong case to seek the compensation you deserve for your injuries. We are committed to defending your rights and fighting for your best interests. You pay us nothing unless we can help you secure compensation.
Call us now at 1 (855) 722-2552 or fill out our Free Case Evaluation form.