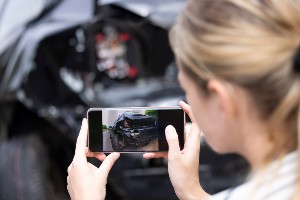 If your car is damaged in an accident, you may be unsure how to go about getting it repaired and who is financially responsible. In most cases, your insurer will pay to fix your car, even if you did not cause the crash. This is because Florida is a no-fault insurance state. Each driver must go through their own insurer to help cover medical expenses and car repairs up to his or her policy limits.
However, if the damage done to your car exceeds these limits, there may be other parties liable to cover the costs to fix your car. Gordon & Partners is here to review your situation during a free consultation. If your claim has merit, we are prepared to guide you through the legal process to get the compensation you need. Our services are provided at no upfront cost to you. We do not get paid unless you do.
Determining Repair Costs and Your Car's Value
Regardless of the insurance company paying for your repair costs, the first and most important thing to do is make a claim by reporting the accident.
What typically happens next is that the insurer will want to have your car inspected. If your car is in working condition, you may be asked to bring it in for inspection. If the car is not in good working condition or is unsafe to drive, the insurer will likely get an inspector to come to where your car is located.
The insurer will then provide an estimate for the damages. This estimate may or may not cover the costs to fix your car. You could be referred to a repair shop chosen by the insurer, but you have every right to choose your own repair shop. Once at the repair shop, make sure to verify the estimate given.
It is important to note that an insurance company is only obligated to pay damages up to the value of your car. If you receive a repair estimate that exceeds your car's value, the insurer will likely declare it a total loss. This means they will pay you the fair market value or actual cash value of your car.
Filing a Claim with Your Insurance Company
Florida's no-fault laws regarding car accidents are structured so that you do not have to wait to prove liability before getting compensated for your losses.
If you have less than $10,000 in damages, your personal injury protection (PIP) benefits will help cover your expenses. Florida law only requires drivers to carry PIP and property damage coverage up to these limits. This means that if your damages exceed this limit, there may be another party or insurance policy responsible for covering your repair costs.
For instance, you may have full insurance coverage on your car or opted to purchase uninsured or underinsured motorist coverage. These policies may also help cover extra repair costs.
Potential Liable Parties for Your Car Repairs
Determining who else may be responsible for fixing your car will depend on a number of factors:
The extent of damage done to your car
Who was at fault for the crash
The available insurance coverage
You may be able to make a claim against the at-fault driver's insurance company if your repair costs are over the $10,000 limit. They may even be responsible for other accident-related damages that surpass your coverage limits. These damages could include medical expenses and loss of wages.
Based on the particulars of your situation, a third party could also be responsible for fixing your car. For instance, if you are in a drunk driving accident, the establishment that provided the alcohol to the intoxicated driver who caused the crash could be held liable for your damages.
Some car accidents may be caused by a defective car or car part. When this happens, you may be able to make a claim against the product manufacturer, supplier or distributor. If the at-fault driver was using a commercial vehicle, the company that owns the car may be held liable for the driver's actions.
Contact Us for a Free Legal Consultation Today
If the insurance company does not want to pay your damages or you need help with the claims process after a crash, a car accident lawyer in West Palm Beach is ready to help. We have helped many accident victims since 1993 obtain compensation to help cover car repairs, medical expenses and more. We have successfully recovered millions in compensation for our clients.
Schedule a free consultation to find out if you have a case. There is no risk or legal obligation involved. We do not charge any upfront fees to take on a case and no fees while we work on a case.