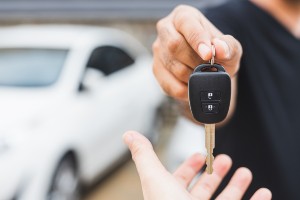 When you let a friend or family member borrow your car, there is a risk that he or she could get into an accident at any time. Should this happen, it is important to know whether or not you will be held legally responsible. Several different factors could affect liability and the amount paid out to cover damages.
The West Palm Beach car accident lawyers at our firm discuss these factors in greater detail below and what to keep in mind if you decide to lend out your car to others. If you or someone you care about has been injured in a crash, find out if you are eligible for compensation in a free, no-obligation consultation.
Insurance Follows the Car
No matter who is driving your car, your auto insurance will be required to cover damages. This is because most insurance policies follow the car, not the driver. In the event of a crash, your auto insurance would act as the primary coverage. The driver's insurance, if he or she is insured, would provide secondary or excess coverage.
For instance, say you let a friend borrow your car and he or she gets into an accident and is found at fault. You would be responsible for paying for damages up to the limits of your policy. Your friend's insurance company would then cover the costs that exceed your policy limits.
If your friend is not at fault for the accident, the other driver's insurance would be expected to cover any damages done to your car. Your own insurance company would not get involved.
Auto Insurance Coverage and Permissive Use
Generally speaking, anyone living in your household will be covered under your auto insurance policy. This would also include anyone who borrows your car as long as they got permission from you. Permissive use means that you gave someone consent to drive your car.
This is why it is important to learn everything you can about your auto insurance coverage. You should know exactly what your policy entails and your liability if you lend your car to a friend or family member.
If you are still unsure about the terms of your policy after an accident in a borrowed car, we recommend consulting with an experienced attorney who could review your policy and discuss your legal options.
What If My Car Was Taken Without Permission?
This would be considered non-permissive use. It can be difficult to prove that you did not give a friend or family member permission to borrow your car without an experienced lawyer on your side. Unless you explicitly denied someone permission, insurance companies will assume that you gave consent.
However, you would likely not be responsible for damages if the driver was at fault for the accident under the following circumstances:
If your car was stolen and involved in an accident, you would not be liable for the other driver's damages. Your insurance company would be able to help cover damages done to your car.
If a friend or family member borrows your car without your permission and causes a crash, their insurance would be primary and yours would be secondary.
If you excluded someone in your household from coverage under your insurance policy and he or she takes your car anyway, your insurance will likely deny paying for damages in a crash.
It is important to note that should the person driving your car not have insurance, you would unfortunately be liable for damages. You could also be liable for damages that happen if the person driving your car was intoxicated at the time of the accident.
Protecting Yourself Under These Circumstances
When lending out your car, be sure to exercise caution. This includes making sure that the person borrowing your car has a valid driver's license, a clean driving record and understands his or her responsibilities on the roadway.
Trust is an important factor to consider. If you know that a friend or family member can be reckless or unsafe on the road as a driver, you should think twice before letting him or her borrow your car.
Your car should also be in good working condition. Make sure to have a copy of your registration and insurance information in the car and let the person who is driving your car know where it is located.
Reach Out to Our Firm 24/7
Regardless of how cautious you are or how reliable a friend or family member is, car accidents can still happen. Gordon & Partners is prepared to answer any questions you may have regarding liability in an accident when someone borrows your car in a free legal consultation.
We could help guide you through the claims process and discuss your legal options at no upfront cost to you. Our firm only gets paid if we help recover compensation in a verdict or settlement on your behalf.