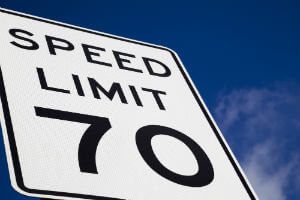 As motorists often deal with a number of distractions and fast-paced traffic while driving, many find it easy to exceed the speed limit. However, speeding greatly increases the risk of causing a crash that results in serious injury or death.
Gordon & Partners's car accident lawyers in West Palm Beach have a strong history of fighting for the rights of auto accident victims to pursue the compensation they deserve after being injured because of another driver's negligence.
If you have been injured in a car accident, schedule a free, no obligation consultation with one of our award-winning personal injury attorneys . We will review your claim to help you determine if you have a case against the at-fault party.
Speeding Statistics
In 2015, there were 9,557 speed-related fatalities on U.S. roadways. In fact, speeding was a contributing factor in 27 percent of all fatal auto accidents that occurred in 2015, according to the National Highway Traffic Safety Administration (NHTSA).
Additionally, the National Transportation Safety Board estimates that speeding causes approximately 10,000 deadly auto accidents each year, which is the same amount of fatalities attributed to drunk driving.
Furthermore, several studies have found that vehicles cause more damage the faster they travel before a collision. For example, a 2014 AAA Foundation for Traffic Safety study found the risk of a severe injury to a pedestrian increased from 10 percent at 16 mph, to 25 percent at 23 mph, 50 percent at 31 mph, 74 percent at 39 mph and 90 percent at 46 mph.
Speeding Increases Accident Risk
A driver is considered speeding if he or she is traveling above the posted speed limit or at a speed that makes operating a vehicle unsafe for certain road conditions.
There are several dangerous things that can occur when a driver travels at an unsafe speed, such as:
Losing control of the vehicle
Reducing the effectiveness of the vehicle's occupant-protection features
Increasing the amount of distance needed to safely stop a vehicle
Reducing the driver's reaction time
Increasing the severity of an auto accident and the resulting damage and injuries
Furthermore, speeding significantly increases the risk of an auto accident when the motorist is driving on a hazardous roadway or is traveling through inclement weather.
These factors are known to reduce the amount of time a driver has to stop or adjust to sudden changes on the road, which can reduce his or her reaction time.
Common Reasons Drivers Speed
There are several reasons why motorists drive faster than the posted speed limit, whether they are conscious of it or not. Some common reasons that motorists speed include:
Running late for appointments, work, school and other obligations
Engaging in distractions like texting, talking on a cellphone or conversing with a passenger
Thrill seeking by driving at fast speeds, which causes a driver to neglect his or her own well-being and the safety of others.
The driver's age, as motorists age 29 and younger are at a higher risk of being involved in speed-related crash
Driving while impaired by drugs or alcohol, which significantly impairs your judgement and senses and may cause motorists to engage in risky driving behaviors or make them unaware of how fast they are driving
Encountering slow-moving or backed up traffic, which may prompt drivers to speed to make up lost time
Each motorist is obligated to drive in a manner that reasonably protects themselves and other motorists, pedestrians and passengers from danger.
By following the posted speed limit and driving at a reasonable speed, a motorist is significantly reducing the risk of causing a severe and fatal accident.
How a Lawyer Can Help You After an Auto Accident
If you were injured in a speed-related accident, you may be entitled to compensation from the at fault driver for your medical bills, lost wages, and pain and suffering.
For this reason, you should contact an experienced car accident attorney to help you determine which options may be available for you to recover the compensation you need.
This can include filing an insurance claim or bringing a lawsuit against the at-fault driver. Your lawyer will also investigate your case and gather evidence to support your claim that the driver caused the auto accident by speeding.
Additionally, a skilled attorney will also work to help you maximize the amount of compensation you may be entitled to receive for your injuries and financial losses.
Contact Gordon & Partners for Help with Your Claim
The West Palm Beach car accident attorneys at Gordon & Partners have helped numerous auto accident victims recover millions in compensation.
We will work to protect your rights and help you pursue the maximum compensation you need for your medical bills, lost wages, and pain and suffering.
Do not hesitate to schedule a free, no obligation consultation to learn which legal options may be available in your claim. We do not charge clients upfront legal fees and you only pay us if we recover compensation for your claim
Call 1 (855) 722-2552 or complete our Free Case Evaluation form now.