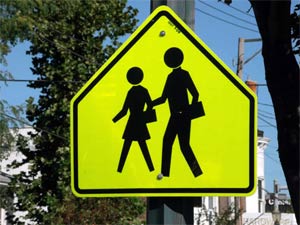 An 11-year-old is in the hospital after being hit by an SUV while walking to school in West Palm Beach.
The child, whose name has not been released, was walking alone on the shoulder of the 500 block of South Chillingworth Drive when the child was hit from behind by a green SUV. The child was not walking on the sidewalk and the man in the SUV fled the scene.
Anyone with information on the driver is asked to contact the West Palm Beach Police Department.
Gordon & Partners sends their well wishes to the victim of this hit-and-run accident. We would also like to extend some information on walking safely to school. If your child must walk to school on their own, consider the following tips:
Have them walk with a friend if possible
Pick a safe route to school
Children should stick to the route their parents provide, shortcuts could be dangerous
Always use the sidewalk
Watch out for cars and trucks at every driveway and intersection
Always obey traffic signs, signals and school crossing guards
If someone you love has been injured in a pedestrian accident, the West Palm Beach personal injury lawyer s at Gordon & Partners are here to help. We can help you determine what your legal rights are and if you may be eligible to file a compensation claim.
For a free case review, contact us at 1 (855) 722-2552 or fill out our Free Case Evaluation form.